Councils in Wales offer services via digital television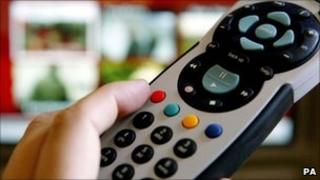 Councils across Wales are trialling a digital system for people to contact them via their television.
The interactive service works via Sky, Virgin and broadband-enabled Freeview.
Using their remote control, people can report faulty street lamps, uncollected rubbish or update council tax or benefit details.
Cardiff council is the latest to launch a Looking Local service but the Welsh Assembly Government is funding a trial for all 22 councils in Wales.
The scheme, which allows people to tune in to council services, is available to anyone who has access to a digital TV.
Cardiff council said the system complemented its existing means of accessing services as well as providing a new route for people without access to a computer or who have difficulty leaving their homes.
Executive Member for Communities, Housing and Social Justice, Councillor Judith Woodman said: "The service puts council information and access to services right in the heart of the home.
"The TV is a relatively new way for people to communicate and we're delighted to be able to offer this service to residents."
'Quick responses'
In a statement on its website, the Welsh Assembly Government said digital TV allowed citizens, particularly the digitally excluded, to interact with a public service organisation through their television in much the same way as a website.
It said: "Citizens use a keyboard or their remote control to access pages of information, request services, or enter data/information.
"This self-serve channel is ideal for providing quick responses that do not require detailed negotiation and can even be accessed over a mobile phone."