Plan for £15m caravan park in Pwllheli is approved.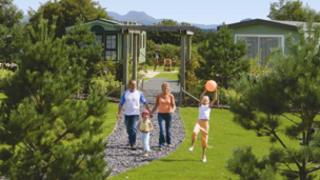 A £15m redevelopment of a caravan park in north Wales has been given the go ahead by Gwynedd council.
It will create 12 permanent jobs and 30 seasonal positions, on top of an existing 350 jobs, said holiday firm Haven.
The Hafan Y Mor "luxury caravan park", in Pwllheli, will involve demolishing 450 chalets dating back to the 1970s.
The 10-year plan will include a nine-hole golf course and extending the coastal path on the site.
General Manager Andrew Baker, who is also director of the Tourism Partnership North Wales, said: "[This] underlines the continuing and indeed growing confidence we have in Hafan Y Mor and North Wales in general as a top tourist destination where visitors can enjoy some of the most spectacular scenery in Britain."
Lodge pitches
The new site will have 209 bases for luxury, static caravans, and add another 75 lodge pitches.
Mr Baker added: "This is a big thing for us. Hafan Y Môr is seen as one of the top five destinations for tourists in north Wales, and in particular the Llyn Pennnsula, and it will be a five-star holiday destination by the time the work is finished."
The development programme would have a "massive effect on the local economy", he said.
The next step was for Haven's designers and planners to work out a detailed schedule for the phased implementation of the plan.
Mr Baker added that he envisaged local contractors would be employed for much of the work.