Ex-Catatonia star Aled Richards in Stuart Cable's band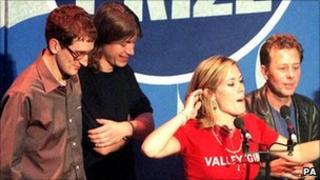 A former Catatonia star will take over as drummer in Stuart Cable's band, Killing for Company.
Aled Richards is said to have been "great friends" with the 40-year-old drummer and broadcaster, who died in June.
They originally met at Aberdare Coliseum in the Cynon Valley in 1996 when Stereophonics, then called Tragic Love Company, supported Catatonia.
Killing for Company released a charity tribute single to Cable on Sunday.
The band said it was a difficult decision to replace Cable but they needed a drummer after releasing their single, Former Mining Town, one of Cable's favourites.
Cable's partner Rachel Jones said the band would be using his drum kit which would enable them to take a little bit of him wherever they went.
Cable was found dead at his home in Llwydcoed, Aberdare, on 7 June. Tests are being carried out to establish the cause of death.
Catatonia had two number one albums with lead singer Cerys Matthews and built up a large following in the late 1990s. They officially split up in 2001.