Shock resignation of Welsh-language channel S4C head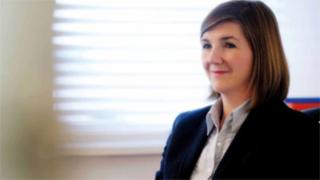 The chief executive of S4C has left the channel suddenly.
Iona Jones' departure followed a meeting of the S4C authority on Wednesday night. No explanation has been given for the move.
Her departure has come as a shock as the Welsh language channel faced tumbling ratings and budget cuts.
The channel's authority refused to make any comment about the reason for her departure or even whether it was voluntary or not.
Political pressure on the channel has been growing with the new UK government indicating unhappiness with the channel's performance.
A statement from the channel's governing body said: "The authority's members would like to thank Iona Jones for her service to S4C. There will be no further comment."
Her exit follows reports earlier this month that the UK government is planning to cut S4C's budget by 25% over the next four years.
Alun Cairns, the Welsh Conservatives' spokesman for heritage and culture, said Ms Jones had been pursuing the right strategy and that stability was needed to ensure that strategy could continue.
He said: "Iona Jones built strategic partnerships with the creative industries and independent sector in Wales, which was the right strategy to pursue. She made a significant contribution to S4C in many ways."
He said he did not believe that her departure was linked to reports of cuts to the channel's budget.
Mr Cairns said he would be pursuing the reasons behind her exit with Welsh Secretary Cheryl Gillan and Culture Secretary Jeremy Hunt.
Alun Davies, AM for Mid and West Wales and a former head of communications at S4C, said the authority needed to explain Ms Jones' departure.
"It would appear there have been significant tensions within the leadership of the channel for some months now. It would appear that came to a head last night."
He said that S4C needed "clear, effective, strategic and far-sighted leadership."
Ms Jones was the first woman to become the chief executive of S4C and the fourth chief executive in the history of the channel that was established in 1982.
Last week, the Media Guardian website reported both "sources close to the channel" and the Department for Culture, Media and Sport (DCMS) as saying the UK government would cut S4C's £100m grant by 6% a year for the next four years.
S4C said it was unaware of any specific proposals but the report has raised concerns about the future of Welsh-language broadcasting in Wales.
The DCMS declined to comment, saying that decisions on departmental spending would be set out in the Comprehensive Spending Review, due in the autumn. The channel received a grant of £101m from the DCMS for 2010.
Mr Cairns said the channel was in a strong financial position, even if the reports of cuts were true.
"I am sure S4C has a long and bright future," he said.