'Deeply proud' family's tribute to Carmarthen soldier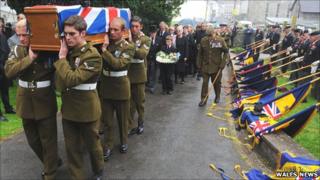 Hundreds of mourners have attended the funeral of a "brave, courageous and loyal" soldier killed in Afghanistan.
Bombardier Samuel Robinson, 31, from 5th Regiment Royal Artillery, was killed in an explosion in the Sangin district of Helmand on 8 July.
Paying tribute, his parents added they were "deeply proud" of him and "all he stood for".
Aberystwyth-born Bombardier Robinson's funeral took place at St Mary's Church in his home town of Carmarthen.
At least 300 friends, well-wishers and family members bid farewell to him amid teeming rain.
A guard of honour stood to attention as the coffin carrying his body was carried into the small Carmarthen church close to where he grew up.
Six uniformed pall-bearers picked from his regiment slowly carried the coffin, draped in a Union flag, into the church.
Once inside a floral tribute from the family, carrying the message "You will live in our hearts forever," was laid on it.
The Rt Reverend Thomas Burns, the Bishop of Menevia, then led a traditional service of prayers, hymns and bible extracts.
The soldier's parents, Alison and Dennis Robinson, sat at the front of the packed church with their heads bowed, and his brother and sisters, Diana, Justin and Corinna, sat alongside.
'Kindness and compassion'
Before the funeral his parents paid tribute to him in a statement.
"He touched the hearts of everyone he met with his kindness and compassion," said the statement.
"He was loved and respected by his colleagues and officers alike. A born leader, he was always quick to defend the vulnerable.
"Sam would give you his last pound or possession without so much as a moment's hesitation, never will you find a man with a bigger heart.
"He was taken from us suddenly and tragically far too soon."
Bombardier Robinson went to school in Carmarthen before joining the Army at 20.
He made four operational tours in Afghanistan, and played an active part in Operation Panchai Palang, or Panther's Claw, a major assault against the Taliban in Helmand ahead of Afghan elections.
His parents said: "He died serving his country and our family is united in our belief that the nation should give their wholehearted support to our troops as they go about the incredibly difficult and dangerous job they have been tasked to carry out.
"Whilst we will all miss him every day of our lives, Sam will continue to live as strongly in our hearts and in our minds as he has always done."
'Comfort and strength'
They said their son had always enjoyed the "outdoors life", including many family camping holidays.
"We had plans to travel abroad with him next year to trek in Malaysia, and to visit Tibet - he had also planned to travel around Europe in a camper van," they said.
"There are so many things that Sam had left to do, so many people he had yet to meet, so many dreams that will never be fulfilled, but we must take comfort and strength from the fact that Sam lived his life to the full and made the most of every day and every opportunity doing a job that he loved.
"Sam really believed in the job that he was doing and we as a family are all deeply proud of him and all that he stood for."
They said they had received "a vast amount of cards, letters and words of condolences" which was "a great comfort to us and a reminder if it was needed, of just how much the death of our brave and courageous son has touched the community as a whole".
"We thank everyone for their kindness, thoughts and support," they added.
Speaking outside the church, Bombardier Robinson's commanding officer, Lt Col Richard Hayhurst. said that he had successfully completed a surveillance operation to help troops.
"He would be focused on the area and the population, trying to identify things that were not usual, not normal, to try and build up a pattern of life in that area," explained Lt Col Hayhurst.
"[His task was] to try and assist the commanders to make the right decisions about how they could best help the population and best carry out their duties."