Cardiff 'troubabours' on 'Templar trail' to Jerusalem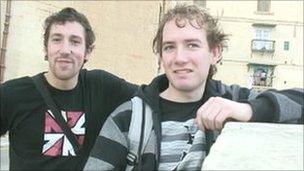 Two musicians aim to spend up to a year walking the 13th Century route to Jerusalem used by medieval pilgrims.
New Zealanders David Delia, 21, and Max Evenbly, 20, say they want to be modern-day troubadours on the 3,600-miles (5,800km) to Temple Mount.
They leave on Sunday, the 914th anniversary of the first crusade, but insist their mission is non-religious.
The Cardiff-based pair said: "After 65 years of European peace, it is time for this path to be walked again."
The first crusade had the aim of reclaiming Jerusalem and holy sites for the Christian church following an appeal in France by the Pope.
The friends aim to visit 13 countries on the "templar trail", the route to Jerusalem which the Knights Templar were charged with protecting.
The pair, who began a band when they were at school, aim to check out music scenes en route as part of a "travelmentary" they are making with a Cardiff-based production company.
Mr Delia, who plays guitar and harmonica, was born in Wales and lived in Prestatyn, Denbighshire, until he was 13 and his family moved to New Zealand.
He was there for six years, and developed a New Zealand accent, before returning to Wales after a spell in Malta.
Mr Delia said: "It's about travel and seeing new things and what's out there.
"It's about going to the border of horizons and experiencing new things and try and learn more about what's going on."
Mr Evenbly, who plays guitar and ukulele, said: "Me and Dave have always wanted to travel.
"Ever since I was a little kid, I my dream was to take a guitar and backpack and just walk across Europe.
"We will definitely be trying to busk. If one of us in unfortunate enough to have to sing, that generally comes down me.
"No matter what language you speak, music is something you really understand, you can play your emotion through it.
Their planned route cuts across eastern Europe and through Turkey to the Levant.
Their kit includes both reproduction Crusader and Saracen clothing.
The pair sought advice on the route from Helen Nicholson, of Cardiff School of History and Archaeology.
She said: "In the 11th Century there were well-established pilgrim routes from western Europe to Jerusalem, and some pilgrim hospices where travellers could stay.
"One major difference is that there are far more bridges now than in the 11th Century - the 'Kiwi Knights' will be able to cross Europe's many rivers safely by bridge rather than paying for a ferry or crossing a ford.
"The dangers from bandits on the roads are now much less, although travellers are still warned about dangers from thieves and pickpockets.
"And they still have to go through customs posts at various stages of the journey, although visas are probably relatively much cheaper than the "protection money" and "customs" which travellers used to be charged on the roads."
Related Internet Links
The BBC is not responsible for the content of external sites.