Merthyr 'face-off' for artist Turner and 'Welsh Turner'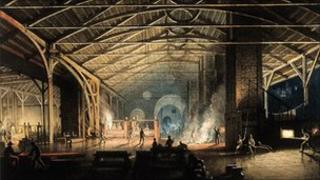 Face-offs may be a phenomenon more common to the worlds of rappers and DJs, but the sedate surroundings of Cyfarthfa Castle Museum and Art Gallery, in Merthyr Tydfil, are playing host to a showdown for the work of two well-loved British artists.
Throughout his life, Penry Williams, one of Wales' finest painters, was equally cursed and blessed with comparisons to Joseph Mallord William Turner.
Now, for the first time, the public can judge for themselves, as works by Turner and "the Welsh Turner" go on display, side-by-side.
Selected works of Turner and Penry Williams will be on show throughout August in the gallery's wedding room.
Heritage Minister, Alun Ffred Jones says the exhibition offers a fantastic opportunity for people in the Valleys, and across Wales, to see Turner's work.
"Turner is one of the world's greatest painters and visited Wales on a number of occasions," he said.
"Just earlier this month his watercolour sketch of Flint Castle, in north Wales, sold for more than half a million pounds at Sotheby's.
"It will be interesting to compare [his pictures] with the work done by one of Wales' greatest painters, Penry Williams."
Rich benefactors
J.M.W. Turner was born in Covent Garden, London, in 1775. His talent had been identified by the age of 14, and he was accepted into the Royal Academy of Art.
He was famed for his use of layered colour and indistinct form to create landscapes rich in atmosphere and realistic natural light.
This style was typified by one of his later, and more modern paintings of a Great Western train, 1844's Rain, Steam and Speed.
Throughout his career Turner was influenced and supported by rich benefactors such as Walter Ramsden Fawkes of Farnley Hall in Otley, Yorkshire, and George O'Brien Wyndham, 3rd Earl of Egremont.
His work, Hannibal Crossing The Alps, is thought to have been heavily inspired by the stormy conditions over the Yorkshire Moors.
John Ruskin, a contemporary critic, described Turner as: "The artist who could most stirringly and truthfully measure the moods of Nature."
Huge talent
Born in 1802, 27 years after Turner, Penry Williams was another alumni of London's Royal Academy.
The son of a house decorator, he grew up at 3 Bridgefield Terrace, Merthyr. He used to work with his father decorating the homes of the ironmasters.
One day while working for the Crawshays, Penry was caught by William Crawshay II as he sketched sheep on one of the window shutters.
Instead of being angry that Penry had painted on the shutters, Crawshay identified a huge talent in him and as a result, paid for Penry to attend the Royal Academy, from which he graduated in 1824.
At that point critics proclaimed him to be as good an artist as Turner, which is why today he is known as the 'Welsh Turner'.
August's exhibition will contain 10 of Turner's masterpieces, on loan from the Tate Gallery, as well as 20 of Penry Williams' finest works, owned by Cyfarthfa Castle.
The case for Penry Williams will be spearheaded by what is generally acknowledged to be his most accomplished piece of art, Procession to the Christening.
But while Penry Williams might have numerical and home advantage, Turner certainly has not come empty-handed.
'Opportunity to compare'
Amongst the 10 Turner pieces are two sketches of Merthyr, made on a late 18th century visit to the town, during the genesis of the Industrial Revolution in Wales.
Many critics believe that Turner narrowly edged out Penry Williams, both in terms of his technical expertise and breadth of subject matter.
However, as art historian David Piper points out in his book, The Illustrated History of Art, Turner was only able to gain a technical and inspirational edge on Penry Williams because his greater economic security and freedom gave him more scope to travel and experiment.
But for Tony Rogers, deputy leader of Merthyr Tydfil council, it is not a case of who was better. He thinks the two complement each other perfectly.
"We are very excited and honoured to have this exhibition in Merthyr Tydfil," said Mr Rogers.
"It offers the unique opportunity to see the works of one of our most famous sons, Penry Williams, displayed alongside one of the world's greatest artists; and gives the opportunity to compare the two.
"It is rare for some of these Turner pieces to be loaned out to galleries, so we thank the Tate for their generosity, and encourage the people of Merthyr to take advantage of this once in 200 years opportunity."