Arwel Ellis Owen made interim chief executive at S4C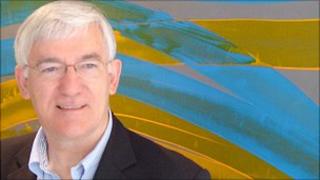 An interim chief executive has been appointed to run Welsh language broadcaster S4C.
Arwel Ellis Owen will step into the breech following the sudden departure of former chief executive Iona Jones.
Mr Owen is chief executive of Cardiff-based media firm Cambrensis, which he established in 1990 following a 30-year career with the BBC.
S4C said he would start in the post immediately and remain until a permanent chief executive is appointed.
S4C Authority chairman John Walter Jones said: "Arwel's vast experience in the media industry will be an enormous asset for S4C at a time when the channel is facing huge challenges and will ensure continuity and stability.
"He will start in the post immediately, working closely with both the authority members and staff."
Speaking to the BBC Mr Owen indicated that his initial intention is to work for three months - on three days a week. But if a new chief executive is not appointed during this period, he could stay on.
Heritage Minister Alun Ffred Jones welcomed the appointment, adding: "I hope this swift action will bring stability and will provide reassurance for the organisation's staff, the wider television sector and S4C's audiences."
Mr Owen said he was delighted to be given the opportunity to lead the channel and was looking forward to working with the production sector and establishing a close relationship with S4C viewers.
He said: "The National Eisteddfod will be a great opportunity for me and the S4C staff to hold a dialogue with viewers and programme suppliers on the issues which are important to them."
A graduate of Aberystwyth University, Mr Owen began his career with the BBC as a reporter on the current affairs programme, Heddiw.
After periods in Cardiff and London as editor of news and current affairs programmes such as Week in Week Out, Panorama and Newsnight, he was appointed head of programmes at BBC Northern Ireland in 1985.
He has chaired BAFTA Cymru, the Derwen facility house, TRI Television, the International Film School of Wales and Cable Cymru Wales.
Departure
Ms Jones left her position on Wednesday night after a meeting of the S4C Authority. No reason was given for her departure.
On Thursday S4C Authority chair John Walter Jones revealed that major changes would be made to the way the channel is run.
Mr Jones said the station would no longer be run with "due separation" between the authority and top management.
He called for "a spirit of co-operation and stability between the authority, the staff here in S4C and the production industry out there".
And he added that the station would in time be advertising for a new chief executive "to lead the channel into the future in very challenging times".