Village mourns boat death girl, Cerys Potter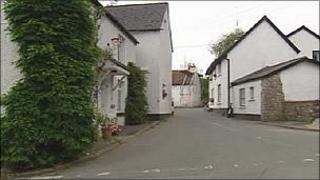 Residents of a Vale of Glamorgan village have spoken of their shock and sadness at the death of a nine-year-old girl in a boating accident in Turkey.
Cerys Potter, of Llancarfan, died on Wednesday at Lake Koygeyiz, in southern Turkey, when a boat carrying about a dozen people struck a rock.
A school governor called her a "beautiful, conscientious child".
Neighbour Kathleen Davies, said: "She was a gorgeous, delightful, little girl - so lovely and well-mannered."
The accident is under investigation by the Turkish authorities.
It is understood Cerys's brother, aunt and uncle had been on the craft when it overturned.
Her 12-year-old cousin, who was found clinging to a rock after the incident, was taken to hospital.
British consular staff are assisting the family, the Foreign Office said.
In Llancarfan, Ms Davies, said: "This is an awful shock.
"I just can't believe it - she used to come and bring me my Sunday papers. I'll always remember her smile and her pretty little handbag."
Neighbour Joan Palmer said: "They're are a lovely family - I used to say hello to Cerys when I saw her playing in the garden.
"She and her brother are always such happy children."
Cerys' mother Julie is a member of the village primary school's parent teacher association.
Jill Davies, chairman of the governors, at Llancarfan primary school, said: "Everyone is completely devastated at this shocking news, it has affected the complete school community both past and present pupils and all the staff.
"She was such a lovely little girl and will be sadly missed. Our hearts and sympathy go out to the family."
Speaking on BBC Radio Wales, Ms Davies said that Cerys was very well known in the area and an active member of the school - a member of the hockey team and eco committee.
She described her as a "beautiful, conscientious child".
Ms Davies said Cerys' mother Julie is a parent-governor at the school and an active member of the PTA.
Counselling is being offered for children, parents or staff who need it.