'Mindless' poisoning of falcons condemned in Torfaen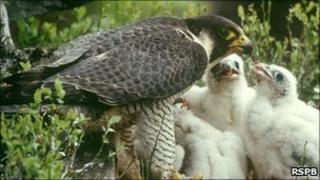 Wildlife officers have condemned "mindless cruelty" after two peregrine falcons were found poisoned in Torfaen.
The birds are believed to have been poisoned by baited racing pigeon carcasses left in the area around Blaenavon mountain.
Pc Stephanie McGregor, wildlife officer, said: "Peregrine falcons are a protected species and harming them in any way is a criminal offence."
Gwent Police have appealed for information and witnesses.
The dead birds of prey were found near to a quarry by the Whistle Pub at around 2020 BST on 24 July.
Pc McGregor, who is based in nearby Pontypool, said: "Mindless animal cruelty such as this is taken very seriously.
"We are currently investigating this incident and will be carrying out additional patrols in the area."
'Hold those responsible'
Delyth Willis from RSPB Cymru said: "Peregrine falcons are extremely vulnerable to human activities, including continued illegal persecution.
"Once the population declines, it takes many years to recover.
"RSPB Cymru will do all we can to support Gwent Police's dedicated wildlife crime officer with this case.
"However, the public's help is also vital in helping us put a stop to these crimes and hold those responsible to account."
Anyone with information is asked to contact Gwent Police on 01633 838111.