NHS execs' 10-year pay protection criticised by AM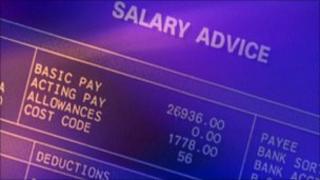 NHS executives redeployed in Wales' health service reorganisation are having their salaries protected for up to 10 years, it has emerged.
South Wales Central AM Chris Franks, who wants a review, discovered 122 staff found new jobs in the revamp.
He said in the financial climate it was "impossible to justify" protecting £50,000-a-year executive pay.
The assembly government said the policy was to ensure the NHS kept "valuable knowledge, skills and experience".
The reorganisation last year saw the number of NHS trusts and local health boards in Wales, each with a board of directors, cut from 32 to seven local health boards and three NHS trusts.
A Freedom of Information request by Plaid Cymru AM Mr Franks found a cut in the board level posts from 180 to 78, a reduction of 102 posts.
The assembly government said 122 of the board directors affected by the shake-up were currently employed in the NHS in Wales or by the Welsh Assembly Government.
'Valuable knowledge'
It said that a policy agreed with unions meant that staff with 15 or more years' experience can have their salary protected for 10 years.
Mr Franks said he had asked Health Minister Edwina Hart to look at the length of protection for high earners.
He said: "In these very difficult times in terms of the public finances, it is impossible to justify that top executives on salaries of £50,000 or more should have their pay protected for 10 years.
"This can't be allowed to happen again.
"I'm aware that in the private sector staff are often offered pay protection of one, two or even three years but this deal to those affected goes way beyond that.
"My view is that there needs to be a review to consider whether this sort of protection to very highly paid executives is an appropriate way ahead for the future."
'Detrimental change'
The assembly government said the pay protection policy applied equally to all Welsh NHS staff.
A spokesperson said: "This policy aims to ensure that the NHS retains the valuable knowledge, skills and experience of its workforce.
"Salary protection applies to any member of staff who, as a consequence of organisational change, incurs a detrimental change in salary."
The pay protection period depended on length of service, with the maximum period of protection 10 years, where an employee has 15 or more years of service.
The assembly government spokesman told BBC Wales: "Health Minister Edwina Hart has received a letter from Chris Franks on protected pay in the NHS and will respond."