S4C chief 'faced plot,' fears Rhodri Glyn Thomas AM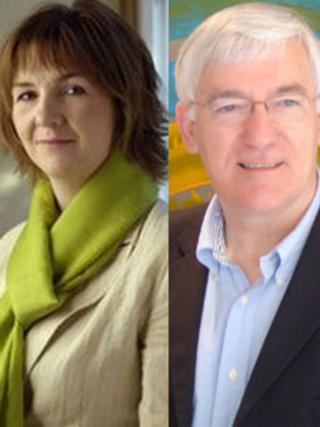 Former heritage minister Rhodri Glyn Thomas says he is concerned there may have been a plot to oust the Welsh-language TV channel S4C's ex-chief executive.
Iona Jones left her position on Wednesday after a meeting of the S4C Authority. No reason was given.
Mr Thomas wants an immediate Department for Culture, Media and Sport (DCMS) investigation.
The S4C Authority said it would not be commenting on his claims.
Ms Jones' departure has come as a shock and there have been calls to explain her exit.
There are fears the Welsh-language channel could be facing budget cuts.
The channel's authority has refused to make any comment about the reason for the departure of Ms Jones, the channel first woman chief executive, or even whether or not it was voluntary.
Mr Thomas told BBC Wales: "We need [an investigation] so that we can be completely clear that this decision was made for honourable reasons and for the right reasons."
He said that if there was a decision to get rid of Ms Jones, he would like to know whether or not it was unanimous.
He said that it has been suggested to him that "personal animosity" may have led to the departure of Ms Jones and that certain members of the authority may have been "waiting for their opportunity" with her departure.
He said S4C had failed to provide an adequate explanation for Ms Jones' departure and called for the DCMS to investigate.
Ms Jones was the first woman to become the chief executive of S4C and the fourth chief executive in the history of the channel that was established in 1982.
Career
She began her career in broadcasting as a journalist with BBC Wales, before becoming editor of the evening news programme Newyddion.
She joined S4C in 1995 as director of corporate affairs. She moved to ITV Wales in 2000 and returned to S4C in September 2003 as director of programmes.
Arwel Ellis Owen, chief executive of Cardiff-based media firm Cambrensis, has been appointed S4C's interim chief executive, initially for three months, three days a week.
He had a "very positive" meeting with Welsh Secretary Cheryl Gillan during her visit to the Eisteddfod in Ebbw Vale on Saturday.
Mr Owen said Mrs Gillan had called S4C "unique" and an important part of the broadcasting mix in Wales, and was confident S4C was taking steps to secure its future and moving forward positively.
He added: "The meeting with the Secretary of State was extremely constructive and it was good to get her personal support for the authority's appointment.
Direct control
"I look forward to further meetings with the Secretary of State soon."
The S4C authority said it would not be commenting further on Mr Thomas's claims.
Earlier this week, S4C Authority chair John Walter Jones said the channel would no longer be run with "due separation" between the authority and top management.
BBC Welsh affairs editor Vaughan Roderick said this indicated the authority taking direct control of the running of the Welsh-language channel.