Welsh firms question 'rush' over carrier bag charges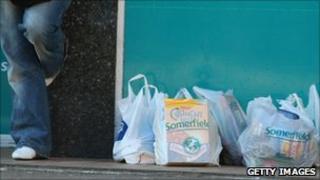 Business leaders have criticised what they call a "big rush" to bring in a 7p charge on carrier bags in Wales.
The assembly government wants the mandatory charge at stores in Wales from spring 2011 in an attempt to cut the number of bags dumped in landfill.
CBI Wales said it was not reasonable to expect retailers to plan for the change over the Christmas period and called for ministers to "think again".
The assembly government said the charge had been known about for some time.
The consultation period on the proposal ends on Monday.
Environment Minister Jane Davidson has said she was confident people would "embrace" the planned charge from March next year amid the need to adopt a more sustainable lifestyle.
More than 400m carrier bags are used in Wales each year. It could take up to 1,000 years for some bags to degrade.
But CBI Wales said retailers in Wales had already cut carrier bag use by 49% in two years, without the need for legislation.
Director David Rosser said firms would normally expect 12-18 months to plan for a change of this scale, and he claimed some "big retailers" had not been formally told of the assembly government's proposals.
He said: "Preparing for a nationwide charge in all supermarkets, DIY stores, fast food takeaways and clothes shops takes a considerable amount of time.
"With Welsh government guidance not available until January 2011, retailers will have only two months to plan with certainty.
"It is simply not reasonable to expect retailers to plan for the charge over the Christmas period which is the busiest part of the retail year.
"We just cannot understand why the Welsh Assembly Government is in this big rush."
Mr Rosser said ministers' first concern "must be the Welsh consumer" and called on them to revert to their original plan of charging from October 2011.
The Welsh Assembly Government said it had agreed to a request from retailers to start in March rather than October to avoid the run-up to Christmas.
"Retailers have known about the introduction of this charge for a considerable amount of time already. Our first consultation on this was in September last year."