Ryder Cup 'eyesore' is cleaned up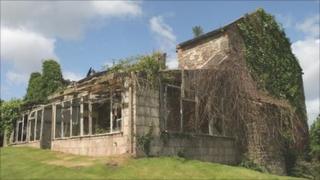 Clean-up work has started on a 400-year-old "eyesore" farmhouse adjacent to the Ryder Cup 2010 clubhouse.
Sir Terry Matthews said his Celtic Manor Resort would undertake the remedial work, stripping the building of its "unsightly modern extensions".
But it will still appeal against Newport council's refusal to allow the building to be moved, which Sir Terry had called a "slap in the face".
The council said it was pleased to have been able to resolve the matter.
Last month the billionaire businessman reacted angrily to the planning committee's decision.
He told the BBC he would make other arrangements for planned investments in the city.
But after "much discussion and public debate" the Celtic Manor has now commissioned contractors to strip the "unsightly" modern extensions from the Little Bulmore Farmhouse ahead of the golf tournament, from October 1 to 3.
Sir Terry said: "We were very disappointed by the decision of the planning committee to halt our attempts to move and fully restore the building.
"But after all the good work undertaken to prepare the Celtic Manor Resort for the 2010 Ryder Cup it is unthinkable that this eyesore be shown to a global audience."
He added: "I was appreciative of all the support we received from the public, the media, the Ryder Cup stakeholders and the business community, and it is against this backdrop that I decided to undertake this work.
"We cannot let a few people ruin this wonderful opportunity to project Newport and Wales in its best light."
Remedial work on the farmhouse will be supervised by planning and conservation officers.
An injunction prohibiting access has been lifted to allow the work to commence.
The resort said in a statement it will still appeal the planning committee's decision, "as it still believes the best outcome for the Little Bulmore Farmhouse is to fully restore it and give it a purpose for centuries to come".
'Entrepreneurial focus'
A council spokesperson said: "Officers, including our conservation experts, have offered advice on what can be done to improve the appearance of the building by taking away the unsightly modern extensions without damaging the integrity of its historic features."
Matthew Evans, leader of Newport council, said: "It would be disappointing if this one issue continued to cast a shadow over the good and strengthening relationship we have with the Celtic Manor.
"We appreciate the investment and jobs it brings to Newport as well as the entrepreneurial focus Sir Terry has brought to the city.
Ed Townsend, deputy leader of Newport council and cabinet member for economic development and regeneration, said: "It was vital that we helped the Celtic Manor to find a viable, alternative proposal after the planning committee took its decision that the farmhouse should not be moved."