Debt 'timebomb' for young adults in Wales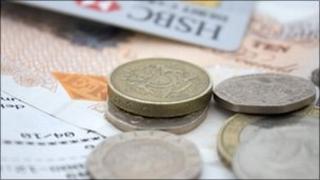 Young adults in Wales are struggling the most with debt, creating a "ticking timebomb", says a consumer watchdog.
Almost a third of 18 to 34-year-olds, around 180,000, have fallen behind with meeting bills or credit repayments in the past year, Consumer Focus Wales said.
It said many racked up debts with credit cards and loans because they had lost a job or had a low income.
It is calling for tighter controls on "irresponsible lending".
Its research showed that 420,000 people in Wales - 18% of the adult population - had fallen into debt.
But, according to its survey of over 1,000 people, young adults and vulnerable people were more likely to be suffering financial hardship.
The watchdog said that for many, borrowing was more of a "necessity than a lifestyle choice", with around a fifth of those questioned turning to credit to help pay for everyday expenses and 13% borrowing to help with household bills.
It warned that with likely cutbacks in financial advice services, the situation could get worse.
Lindsey Kearton, senior policy advocate at Consumer Focus Wales, said: "Our research shows there may be a "ticking time bomb" in terms of people's ability to cope financially over the coming months," she said.
"There are already signs that consumers might be overstretching themselves."
She said likely cuts to financial support services needed to be properly managed to ensure people continued to get the advice they needed.
"Bringing in tighter controls on rogue and irresponsible lending will also help long-term," she added.
YWCA, a charity which works with disadvantaged young women in south Wales, said it had noticed a rise in money worries among those it helped, with fewer jobs available for people looking for work.
"Because of the nature of what we do, working with women and girls who are disadvantaged, we often give advice and support on money issues and debt," said Linda Pritchard, policy officer for YWCA.
"But I do think it's getting worse. In particular, there's a worry that a difficulty in getting credit could mean more people go to illegal money lenders."
She said the charity helped girls and young women move out of debt and poverty by helping them gain the skills they need to get a job.
"But of course, in the the current financial climate, there are few jobs around, which can leave the girls even more disillusioned," she added.