S4C tells eisteddfod it wants to 'look to the future'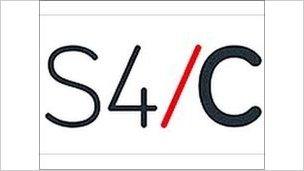 The heads of S4C have said they want to look to the future after a turbulent period for the channel.
Last week chief executive Iona Jones left the Welsh-language channel unexpectedly after five years with the broadcaster.
S4C Authority chair John Walter Jones and interim chief executive Arwel Elis Owen met viewers at a meeting at the National Eisteddfod in Ebbw Vale.
No reason has been given for the departure of Ms Jones.
At the public meeting on Tuesday evening, S4C officials said they wanted to secure a stable future for TV production in Wales.
Last month, there were reports the channel will face a 25% cut to its funding over the next four years.
The Media Guardian website reported that the Department for Culture, Media and Sport would cut S4C's £100m grant by 6% year on year, starting in 2011
John Walter Jones said it was now time to start a new dialogue with the TV production sector in Wales.
Mr Elis Owen said he had been meeting producers as he carried out an assessment of the channel's strategy for the difficult times that lay ahead.
Also at the eisteddfod, a former Pobol y Cwm scriptwriter has been named the winner of National Eisteddfod Daniel Owen Memorial Prize for best novel.
Grace Roberts from Felinheli, Gwynedd, has previously won the Eisteddfod Môn Prose Medal and the National Eisteddfod's short story competition three times.
Three novels were received in this year's competition, and Ms Roberts' novel, written under the pseudonym Spot y ci, was chosen by judges Gareth Miles, Jane Edwards and Alwena Williams.
The novel explores three women's relationships with society's attitudes to sex at different periods over the past 60 years.
Related Internet Links
The BBC is not responsible for the content of external sites.