Early Down's syndrome screening not available in Wales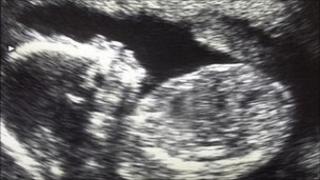 Pregnant women in Wales are still waiting for access to a screening test two years after it was recommended.
A health guidance body said in 2008 all pregnant women should be offered, on the NHS, a combined scan and blood tests for foetal chromosomal problems.
But currently, women are only offered a different blood test after 15 weeks.
The assembly government said implementing guidelines took time but it hoped to have screening in place by April next year, depending on funding.
The recommended test is a specialised ultrasound scan checking for raised levels of fluid at the back of the foetus' neck, which can indicate chromosomal abnormalities such as Down's or Edward's syndromes.
It is done alongside a blood test which looks for raised levels of certain proteins and hormones, which can also suggest a problem.
It has to be done between 11 weeks and 13 weeks plus six days of a pregnancy.
At least 60% of trusts in England already offer the combined test.
The National Institute for Clinical Excellence (Nice) said in its revised guidelines in June 2008 that the test seemed to have a higher detection rate for Down's syndrome and a lower false positive rate compared with other combined screening tests.
Antenatal tests in Wales are coordinated by Antenatal Screening Wales, but it said it could only set up standards and guidelines for screening programmes once the decision to go ahead was taken by the assembly government.
Funding is given directly to the six NHS health boards in Wales which administer antenatal screening.
Jane Fisher from the charity Antenatal Choices and Results (ARC) said she wanted to see the screening "inequity" ended.
"We regularly hear from women on our helpline from Wales and parts of England where the hospital does not offer this test," she said.
Major changes
"They can only access it if they are able to pay to go privately.
"ARC is keen that all pregnant women are offered a high-quality first trimester Down's syndrome screening service so we can end the current inequity."
A spokesman for the assembly government said it took time to implement Nice guidelines as they could involve major changes to service delivery.
"Costed plans are being developed to implement the Nice and UK National Screening Committee recommendations of introducing a combined test (blood test and scanning) in addition to the current routine blood test," said the spokesman.
"As part of the plans, further education and support will be provided to health professionals caring for pregnant women, including sonographers, to undertake this screening as well as changing when the tests and screening are conducted so they can be done at the same time as receiving the ultrasound scan.
"Subject to the development of the plans and availability of funding, we aim to deliver the screening from April 2011."