Cuts fears for Wales' in-roads into space exploration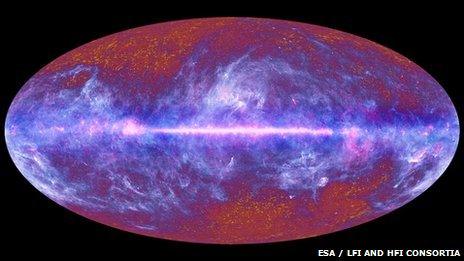 Wales' in-roads into space exploration could be jeopardised if cuts are made to science budgets, a researcher warns.
Dr Chris North, who is part of a Cardiff University team using Europe's Herschel and Planck telescopes to study the universe, said the project had helped boost the country's reputation for astronomy.
But possible cuts could mean future experiments go elsewhere, he said.
The project has already helped students and school pupils, he added.
The two telescopes were blasted into space on an Ariane 5 rocket from Kourou in French Guiana in May last year, to help unlock some of the secrets of the Universe and stars.
Astronomers and other scientists from Cardiff University played a major role in their development, building key parts for the satellites and creating the experiments and tests that will be conducted.
Teams of researchers and some undergraduate and postgraduate students are now involved in analysing data and images sent from the telescopes, linking up with scientists across the rest of the UK and Europe.
A "space ambassador" role has also been created - funded by the European Space Agency (ESA) and UK Department for Education - to help highlight the missions by working with teachers and students across Wales, giving talks in schools, training teachers and providing information on careers in the space industry.
Dr North, who is research associate on Planck and promotes the work of Herschel, said the space project was bringing benefits to the whole of Wales, creating knowledge, jobs and inspiring future scientists.
"With the knowledge and images we get back [from the telescopes], we can say 'this is what you get for your money' - especially at the moment in the current climate of funding cuts," he said.
"Astronomy funding is in the same boat as all other funding. It's been through a difficult couple of years which hit us pretty hard, even before the recession.
"In terms of grants, there have been cuts of 25% from government to universities.
"But these projects show the funding is worth it, not just the knowledge we get back but through the economic returns."
He said the cost of ESA, when split across Europe, "equates to something like the cost of a cup of coffee for each person".
The cost of Herschel and Planck is nearing 2bn euros - "but that's over 16 to 17 years [the time taken to get them into space]," he added.
Figures show that the UK space industry is estimated to be worth about £6.5bn a year, and supports more than 68,000 jobs in many hi-tech areas.
Aberystwyth University has also been involved in space projects, including designing a camera which will be used to take photographs of the surface of Mars.
Dr North said scientists feared that while UK budgets could be cut as part of the UK government's plans to reduce public sector spending, those in other countries may not be, meaning future experiments would be given to them instead.
"It would be a terrible shame," he added.
"The UK involvement in Herschel has been quite staggering - it's had an incredibly strong role in Herschel.
"Of the scientific results released so far, 74% have had UK involvement and nearly 20% have been led by the UK.
"This work and effort going into training scientists would go on to help future projects."
Related Internet Links
The BBC is not responsible for the content of external sites.