Powerboat racer knocked out in Barry grand prix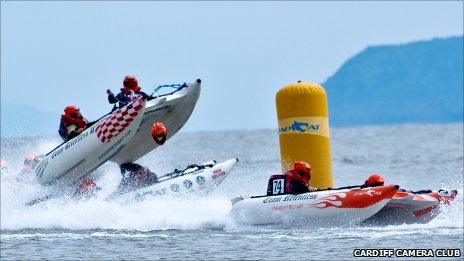 Coastguards say a teenager was knocked unconscious after he was thrown from a powerboat while racing around buoys.
The 18-year-old was thrown from his Zapcat, at Barry Island, Vale of Glamorgan, and was hit by another boat.
He was brought ashore unconscious but managed to regain consciousness while being treated by paramedics.
Zapcat Racing spokesman Chris Ray said the injured teenager made a full recovery. He said: "He had a bump on the head but he was fine."
"The recovery team had him on a spinal board in six seconds. He wanted to come back and finish racing."
Mr Ray said the weekend in Barry had been a success, with 26 teams signed up for the grand prix event, the second year the event had been held at Whitmore Bay.
It is thought the teenger was from the Southampton area.
Zapcats are small catamarans originally used in South Africa for life-saving in heavy surf.
Related Internet Links
The BBC is not responsible for the content of external sites.