Vetch Field security costing £50,000 a year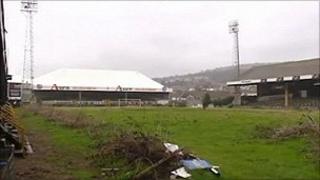 Secuity and maintenance at Swansea City's old ground is costing an average £50,000 a year, it has been revealed.
The Vetch, which the Swans left five years ago, is still awaiting redevelopment.
Figures obtained under the Freedom of Information Act show total maintenance costs stand at £269,688 but Swansea council said break-ins and trespass had been minimised.
The council's leader blamed difficult market conditions for delays.
Swansea council took control of the stadium after a jubilant Swans crowd bid farewell at the FAW Premier Cup final of May 2005.
The club moved to the new Liberty Stadium, which they share with the rugby side Ospreys.
Plans have been agreed for up to 120 houses, as well as a community centre and children's play area at the old ground.
However, the council admits that they are no closer to finding a contractor to make the plans a reality.
Council leader Chris Holley said "difficult market conditions continue to delay progress".
"A lot of effort was being focused at the time on the new £27m Liberty Stadium to make sure it was ready for the 2005/6 season.
"The legal searches to see if the Vetch could be built on also took time
"We applied for money to demolish and clean up the site, but we failed to get it. If we had had the grant, the value of the site increases," said Mr Holley.
Whilst the figure for maintaining the derelict site has provoked outrage in the local press, Trevor Carr, director of Swansea estate agents John Francis, believes that £250,000 could still represent a shrewd investment.
"Four or five years ago urban land in Swansea might reasonably have been expected to change hands at £1m an acre. Today you'd be looking at half that.
"You could argue that Swansea council's big mistake was not getting rid of the land as soon as it came into their possession, at the height of the market, but hindsight is a wonderful thing."
"At the time I believe they were trying to secure a grant to clear the site, and back in 2005 that was probably the right decision. A site ready for development will fetch 20% or more over one which requires demolishing."
"But now the bottom has fallen out of the property market, it's probably been sensible for the council to hold onto the land, and achieve the best deal possible," Mr Carr said.
"I certainly think it's fair to say that prices have bottomed out now, and that they'll only go up from here."
On these figures, if property prices regain just 50% of their losses during the recession, then Swansea council will be able to hold on to The Vetch for a further ten years, and still return a profit on the site.
However, in the meantime the ground continues to decay, and is a cause for concern for local residents.
Louise Beckett, who lives in nearby Sandfields, says getting the best price for the land is in everyone's interests, but she hopes the council doesn't leave it too much longer.
"In fairness there's been no trouble there whatsoever, and you might have expected it with such a large derelict site, especially considering its history for sports fans.
Preferred bidder
"Mind you, at £50,000 a year you'd hope there wouldn't be any trouble"
"Money for public services is so tight at the moment, that you can't blame the council for holding on to their assets until they can get full value for them.
"But at the same time, it's not a pretty sight to live by any more, and it's only going to get worse
The council confirmed no preferred bidder had been identified for the Vetch, but reassured locals that in the five years since Swansea City moved out, just four break-ins and one illegal trespass had been reported to the police.