Birds of prey for Gwynedd pub gull menace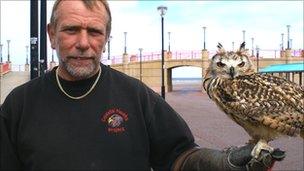 A pub in a Gwynedd town is bringing in owls and hawks to deal with seagulls scavenging for food in its beer garden.
The owners of the Black Boy Inn in Caernarfon say herring gulls have even smashed plates searching for titbits.
Handlers from the Coastal Hawks Project and birds of prey will spend a day scaring seagulls in what they say is a humane way of dealing with the problem.
The method has already been used successfully in Rhyl, Llandudno, Conwy and Cardiff's Millennium Stadium.
Caernarfon is the latest area where businesses have complained about attacks from hungry herring gulls.
John Evans, from the Black Boy Inn, said he was worried that they were becoming a hazard to health.
"They're extremely intimidating," said Mr Evans.
"If someone eating outside leaves their meal for even a few seconds, the gulls will come down, land on the table and grab whatever they can.
"They've even stolen ice creams out of children's hands elsewhere in the town.
"We've tried several ways to get rid of them, but they just don't work."
Killing herring gulls is illegal without a licence from the Welsh Assembly Government.
Coastal Hawks Project handler Mike Espley said his organisation provides a humane alternative.
"We disperse the gulls purely by introducing the birds of prey tethered to our fist," he said.
"It scares them away from people who might be eating outside."
Mr Evans believes that if the birds of prey prove effective, Gwynedd council should pay to hire them regularly - as is the case in neighbouring Conwy.
A Gwynedd council spokesperson said everyone needed to play their part in dealing with the problem by not feeding the birds or dropping food litter on the ground.
Related Internet Links
The BBC is not responsible for the content of external sites.