Home births in Wales double over decade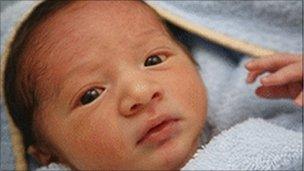 The number of women who give birth to their children at home in Wales has more than doubled in less than a decade, figures have revealed.
Since 2002, when the Welsh Assembly Government launched a drive to increase home births, they have risen from 604 to approximately 1,395 last year.
There has also been a rise in women giving birth in midwife-led units.
Helen Rogers, head of the Royal College of Midwives in Wales, said: "It's excellent. But we can still do better."
Over the past eight years, the assembly government has encouraged healthy women with low-risk pregnancies to have their babies out of hospitals.
In 2002, maternity services in Wales were asked to reach a 10% home birth rate by 2007, making it the only nation in the UK to have a target.
Midwives say that while it was a very ambitious aim and many areas have not managed to reach it, it has helped transform the choice in maternity services.
On average, 4% of births in Wales last year were at home, which is higher than the UK average of 3%.
Some areas in particular, including Porthcawl in Bridgend county, Powys and Carmarthen, have achieved high home birth rates, according to Ms Rogers.
"Wales is certainly leading the way with home births," she said.
"But we still haven't reached 10%, which was the target. And although some say that was aspirational, we should be continuing to work towards that, even though the deadline has passed.
"Midwives are continuing to work towards it because many see the benefits home births bring.
"They are cost effective in that women don't need to stay in hospitals.
"And for the mother, there is less risk of medical intervention, the birth is well planned, she is in a relaxed environment and often doesn't have to leave other children."
In rural areas in particular, the number of home births has seen a large rise, with Powys Teaching local health board topping the table with a rate of 8.5% in 2009, according to assembly government figures.
Julie Richards, head of midwifery for the Powys health board, said it tailored its resources to meet the demand.
Rather than staffing a large obstetric unit at a hospital, which midwives have to do in more populated areas, they can "focus on staffing women's needs", she said.
But in some towns and cities, such as Cardiff, a smaller percentage of women are choosing home births, instead opting for midwife-led units, which offer a "home-from-home experience" in a hospital.
"In places like Cardiff, which has around 6,000 births per year, there is probably more need to staff hospitals," said Marilyn Wills, a National Childbirth Trust (NCT) antenatal teacher in the city with 25 years experience.
"And many women like the option of midwife-led units in hospitals which are often just a short ride away from doctors if you need medical help."
The issue of home births has been in the headlines recently after medical journal The Lancet said mothers-to-be should not be able to opt for them if they put their babies at risk. Under UK law women can override medical advice.
It came after research published in the American Journal of Obstetrics and Gynaecology suggested home births were more risky than hospital delivery.
But the Royal College of Midwives said the research was "flawed", and the assembly government insisted that only women with low-risk pregnancies were encouraged to have their children at home.
The chief nursing officer for Wales, Rosemary Kennedy, said: "It is for midwives and other health professionals to explain to pregnant women the birthing options available to them, and decide on the most appropriate option after considering their medical history and preferences."
She said the drive to encourage more home births had also led to an increase in women choosing to have their babies at birth centres in Wales, such as midwife-led units, which often offer options such as birthing pools.
"Now about a third of healthy women with normal pregnancies give birth outside a consultant-led unit," she added.
Related Internet Links
The BBC is not responsible for the content of external sites.