University of Glamorgan helps Harlem girls tackle rugby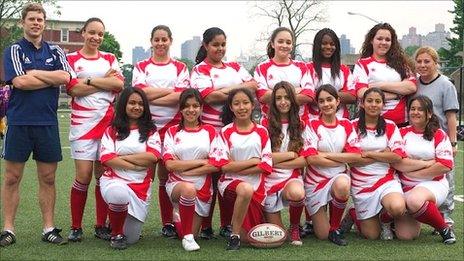 A student rugby union coach has described how teenage girls in the New York neighbourhood of Harlem were won over to the game.
Tom Hatfield, 27, was one of six University of Glamorgan sport students to spend four months in the US.
Their task was to organise tournaments, festivals and a school Sevens programme and talent scout for USA Rugby.
After the Harlem girls were "battered" by bigger rivals, he told how proud he was when they asked for more training.
Mr Hatfield, who has charity coached in Kenya and Uganda, was based in New York and worked with students in East Harlem.
The district may be more famous for its basketballing Harlem Globetrotters, but the students soon learned about a sport which is an obsession in much of Wales.
He said: "They were apprehensive at first about tackling.
"As you can imagine, 14-15-year-old girls have never really done any contact sport.
"They have seen American football tackles but rugby tackling "with no equipment," as they put it, they were somewhat apprehensive.
"But after a few rough-and-tumble sessions, and techniques that we use to get younger kids used to the physicality of rugby, they got quite into it.
"That was fine when they were tackling each other.
"But in a game scenario, which happened to be the girls school from the South Bronx, who were somewhat bigger and a bit more street savvy than my Harlem girls, they got a bit battered.
"I thought that they were going to say to me that 'sorry, I didn't sign up for this. I'm not carrying on'.
"I sat down with my girls at the side of the pitch and asked, 'what do you think?'
"Every single one of them said... 'you need to work us harder in training - we understand now what we need to do - we need two training sessions a week, not one!'
"It was quite a proud moment for me."
Mr Hatfield is about to start his third and final year of a BSc sports science and rugby degree.
He and fellow students Chris Day, Gareth Redding and Andrew Fern were based in New York, while two others, Ben Cullen and Jamie Pincott, were in Indiana.
Staff at the university in Treforest have established links with rugby organisations in the USA over the past two years which have led to the student placement scheme.
Their course leaders Dean Parsons and Mostyn Richards said the students were already highly qualified after participating in work-based learning placements with the Cardiff Blues and Newport Gwent Dragons rugby teams, working in schools, clubs and athletics organisations to develop similar grassroots programmes.
They said in addition to helping school pupils in New York and Indiana, they have also helped teachers in the regions to put rugby into the physical education curriculum.
Mark Griffin, of Play Rugby USA and High School Rugby development manager for USA Rugby, said: "The students have been outstanding thus far. Their knowledge of the variant game and how to coach skills are top class."Play Rugby USA and Indiana Rugby have funded most of the costs for the scheme in America and have worked with the students to develop the community rugby provision.
Related Internet Links
The BBC is not responsible for the content of external sites.