Tidal flood defence plans for River Clwyd go on show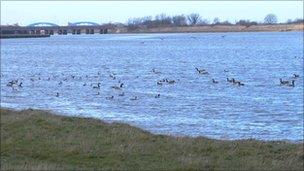 The ways tidal flooding will be tackled over the next century along a stretch of the north Wales coast are being put on public display for the first time.
The strategy covers an area stretching from Abergele in Conwy, across the Flintshire border near Prestatyn.
The whole region is at risk from flooding, especially along the tidal River Clwyd.
Parts of the area were devastated 20 years ago when the sea breached defences at Towyn.
Meic Davies, north Wales flood risk manager for Environment Agency Wales, said the aim was to seek public views on the strategy.
It outlines plans for the next 100 years, with an eye on flood defences towards the end of the century.
"Protecting people and communities from flood risk is one of our main aims, and we are already doing this with our work to reinstate the Clwyd flood banks to their original height," he explained.
"This will provide people in the area with a good level of protection for the next decade or so.
"But it is not feasible to keep on topping up these flood banks - they just keep on sinking faster and faster into the soft peat.
"We believe that our plan for the longer term is the best way to protect people - now we want to see if they agree with us."
The flood report out for consultation warns that changes to the climate will continue to prove a challenge for managing defences along the north Wales coast.
"We can never stop floods from happening altogether," warns the report.
"Even if we apply all the proposed principles, adapt better to floods, improve existing defences and build new ones, there will always be a risk of an extreme event or failure causing a flood.
"People need to be prepared and aware of these risks."
The worst example of flooding in the region occurred 20 years ago when tidal storms surged up the River Clwyd and the sea breached defences at Towyn.
More than 2,000 people had to be evacuated from their homes in an area stretching from Ffynnongroyw in the east to Pensarn in the west.
The new tidal flood management proposals set out recommendations to improve the banks of the River Clwyd, work which has already started on a stretch from Rhyl to Rhuddlan.
In the next decade, the report suggests that the banks could be moved, effectively widening the river, and providing tidal surges with more room to flow.
But the Environment Agency has ruled out moves that could attempt to control the tidal flows in the Clwyd estuary, warning that it would involve immense cost and still risk failure.
Related Internet Links
The BBC is not responsible for the content of external sites.