Sick boy and man taken off ships off Welsh coast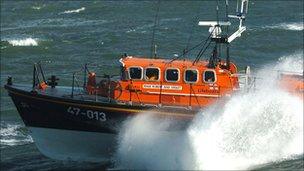 A helicopter and lifeboat have taken a sick three-year-old boy and a seaman from ships off north and south Wales.
The helicopter from RAF Valley, Anglesey, evacuated the boy from a ferry off Pembrokeshire on Saturday afternoon.
At the same time Holyhead Coastguard was asked to take the seaman, 42, from a ship off Moelfre, Anglesey.
The coastguard said the boy took priority, and Moelfre lifeboat was launched to evacuate the seaman.
The first call was to Milford Haven Coastguard just before 1600 BST, reporting that the boy was ill on board the ferry Stena Europe, 13 nautical miles west of Strumble Head and en route to Ireland.
The coastguard said medical staff on board advised that he needed to be taken off the ferry, and the helicopter was called to take him to Withybush Hospital, Haverfordwest.
Simultaneously, the merchant vessel Marida Melissa got in touch with Holyhead Coastguard after one of its seaman, an Indian national, became ill.
Doctors decided he should go to hospital, but the helicopter was needed for the boy, and so the lifeboat was launched.
Barry Priddis, of Holyhead Coastguard, said: "We don't normally use lifeboats for medical evacuations but in this case, the child had to take priority.
"When the lifeboat crew arrived at the vessel, which was anchored off Moelfre, they assessed the scene and reported back to us that they were confident that they could evacuate the ill man off of the ship safely.
"The man was carefully lifted on to the lifeboat then taken back into Moelfre, where he was lifted into an awaiting ambulance, then on to hospital."
Related Internet Links
The BBC is not responsible for the content of external sites.