Police end Vale of Neath climate camp on Roman fort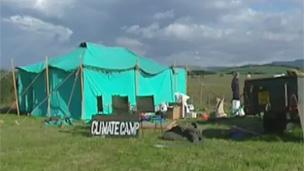 South Wales Police have broken up a "climate camp" after complaints that it was on the "very sensitive" site of a Roman fort.
Officers moved between 20-30 protesters from the camp, near Dyffryn Cellwen, north of Glynneath, and said Coelbren had already suffered some damage.
Climate Camp Cymru demonstrators said they wanted to highlight issues surrounding the use of fossil fuels.
One of the protesters told BBC Wales they were considering their next move.
The camp was set up on Friday night for what the organisers said would be five days of workshops, discussions and direct action on the issue of sustainable energy.
But police moved in on Saturday afternoon after they said they had "representations" from the owner of the land and Cadw, the historic monuments agency.
Assistant chief constable Nick Croft said: "We informed the protesters that they had to vacate the site and gave them sufficient time to dismantle their tents and move on.
"I am pleased to say that everyone involved packed up and left in an orderly manner and I would like to thank the protesters for their co-operation.
'Addiction to fossil fuels'
"South Wales Police maintains a strictly impartial position on any related issues and causes, but have a responsibility to safeguard the right to a lawful protest, and a responsibility to safeguard the rights of individuals to carry out their lawful business.
"We will continue to work with any parties involved to ensure the safety of those participating at the camp, and the safety of the general public."
The camp organisers said there had been a big police presence since it was set up.
"They came with over 100 police officers for 30 people," said green campaigner Bob Hodson Smith, who claimed that the camp was "perfectly legal".
He said the landowner had, initially at least, agreed for the demonstrators to use the site.
In a statement, camp organisers said they had been planning to take "direct action" against owners of nearby opencast mines.
One, Tim Jones, said the economic system was "based upon an addiction to fossil fuels and ever increasing consumption".
The organisers said climate campers were "well-known for ensuring that land they use is left as they find it - cleaned up and undamaged" and they were "very concerned not to damage the soil and therefore did not erect their wind turbine".