New Welsh host Alex Jones admits pre-One Show nerves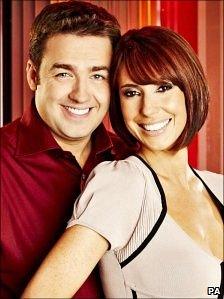 Alex Jones, the new Welsh presenter of The One Show, admits she will be nervous on her first appearance on the flagship BBC programme.
The 32-year-old will make her debut alongside comedian Jason Manford on BBC One on Monday (1900 BST).
She admitted that when the titles "kick in probably our hearts are going to be in our throats".
She is from Ammanford, Carmarthenshire, and described the BBC as "really brave" to use a regional presenter.
Jones and Manford will interview US actress Whoopi Goldberg, who made her West End debut in Sister Act last week, on the sofa on Monday night.
Other guests this week are expected to include Pamela Anderson and Tommy Steele.
She told BBC Radio Wales that they were both looking forward to getting on with the job.
A long-term presenter on the Welsh-language fourth channel S4C, she has worked mainly on Welsh children's TV over the past 10 years.
Last year she was voted Wales' 30th sexiest woman in a newspaper poll.
She was talent picked for BBC stardom via her showreel on YouTube, but said: "I completely forgot it was there.
"It's been there for three years and nobody's taken a blind bit of notice before now," she said.
An e-mail arrived asking if the address still worked.
"I thought who is this weirdo, and actually it wasn't a weirdo at all, it was the deputy editor of The One Show "
Her predecessor Christine Bleakley has moved to ITV to rejoin her former One Show host Adrian Chiles.
Jones described Bleakley as a "fantastic presenter" and insisted she did not mind the constant comparisons about how much they look alike.
"Maybe after the first show people will forget about the similarity and move on, but I'm not offended by it in any way. Adrian and Christine did a fantastic job."
She added: "I think the BBC have been really brave to give a regional presenter a go on their flagship show and I think it's a good thing because there are loads of regional presenters out there."
She was not sure if she was ready for everything that being a presenter on a top TV programme will throw at her. But she will take it "day by day, show by show and week by week ".
Her appointment happened in a whirlwind and she is still commuting by train back to her home in Cardiff.
"I still haven't found anywhere to live because everything has happened so quickly.
"So I'm back to Cardiff at the weekend, I haven't quite cut ties yet, and I don't think I ever will."
"Jason's already sort of picking the odd word up and he's been texting me in Welsh, which I think is really impressive," she writes.
"I think we'll stick to English though, so everyone knows what we're saying, but there may be the odd word chucked in."
She added: "I'll be like, 'Shw mae Whoopi Goldberg, oops, I mean how are you!' It'll add to the charm!"
The new presenters appeared on Chris Evans' Radio 2 show on Monday. Evans himself is to present the One Show's Friday programme.
Salford-born comedian Manford said he was not feeling too worried about the pair's debut, saying: "I think it's going to be all right.
"I'm looking forward to it. The show is already there. We have to say things and not be offensive."