Pakistan flood aid response 'overwhelming' in Wales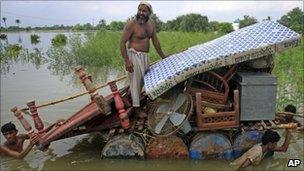 Aid organisations say there has been an "overwhelming" response from people in Wales to the floods in Pakistan.
But the Disasters Emergency Committee (DEC) said there was a pressing need for more money to help the 20m people affected by the monsoon floods.
Fundraising events are to be held in Cardiff and Newport this weekend.
Meanwhile the Pakistani community is raising money through collections at mosques for what it calls an "unprecedented" disaster.
The Pakistan Welfare Association Wales said there was an estimated 16,000 people of Pakistani descent living in Wales.
Chairman Mohammed Javed said the majority lived in Cardiff and Newport and were closely following developments.
"We are pleased with the response of the international community and are happy that the international community is very much in support," he added.
Mr Javed said as well as a shortage of food and clean drinking water there was growing concern about the spread of disease.
"It's a disaster that is unprecedented and no country can be prepared for this sort of thing," he added.
Since launching its appeal at the Eisteddfod earlier this month DEC Cymru said there had been a tremendous response.
It said people in Wales had donated well over £250,000 via its website while individuals and groups were organising fundraising activities.
The DEC, which has so far raised £15m, said it was financial support that was desperately needed.
Chairman of DEC Cymru Jeff Williams said: "The response from Wales has been overwhelming, particularly given the economic climate at the moment.
"People in Wales have been very generous and are continuing to donate which will really help to ease the plight of those affected.
"However the scale of the disaster is vast and we're appealing for more funds to ensure we can reach those most in need.
"With monsoon rains continuing, the situation for millions of people in Pakistan is going to get worse before it gets better."
Islamic Relief, one of the organisations that make up the DEC, is organising fundraising dinners at the Newport Centre on Saturday evening and at Cardiff's City Hall on Sunday.
Spokesman Fatehullah Tahir said it was also hoped that Indian restaurants in the Cardiff area would stage a fundraising evening similar to that held earlier in the year for the Haiti earthquake appeal.
The United Nations has said $459m (£294m) is needed to deal with immediate needs.
Related Internet Links
The BBC is not responsible for the content of external sites.