Alex Jones makes debut on The One Show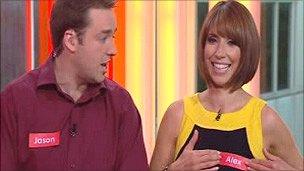 Alex Jones brushed off pre-show nerves to make her debut on The One Show.
The presenter, 32, from Ammanford, Carmarthenshire, teamed up with comedian Jason Manford to front the flagship BBC programme.
The pair interviewed actress Whoopi Goldberg and introduced features on car clamping and Blackpool's role as a World War II airbase.
Jones and Manford have taken over from Christine Bleakley and Adrian Chiles, who switched to ITV earlier this year.
Wearing a black and yellow 1960s-style mini-dress, Jones wore a name badge given to her by Manford to introduce themselves to their new audience.
As the show began, Manford declared: "It could go either way, I suppose. Otherwise, in half an hour's time we will be escorted off the premises.
"But I have made name badges for everyone, because I presume people may not know who we are."
A long-term presenter on S4C, Jones worked mainly on Welsh children's TV before The One Show's deputy editor spotted her show reel on YouTube.
She originally planned to wear a different outfit for her debut but told Chris Evans' Radio 2 show that she had forgotten to pack the right underwear to go with it.
"It's the underwear that pulls you in a bit," she said.
"In my rush to get to London yesterday I didn't pack it so that dress, I cannot wear."
Interviewed before the show, Jones admitted to a few nerves and that when the titles "kick in probably our hearts are going to be in our throats".
The One Show hit the headlines when Chiles announced he was quitting in March after signing a deal with ITV.
Co-host Bleakley followed him in June after saying she was "torn" between staying with the BBC or joining ITV.
Reviews of the new pair's first programme together were mixed.
Writing in The Mirror, Polly Hudson said while Manford "looked nervous" Jones "appeared strangely cool and calm."
"Rather than coming across like her predecessor . . . she seemed genuine.
"There's already a nice chemistry between Jason and Alex, you can believe they'd go for a drink together in real life."
But Amanda Platell for The Daily Mail was less impressed.
She said watching the launch show "was like a watching a panic attack."
"There was none of the sizzle that made the Chiles/Bleakley combo work," she wrote.
Lucy Mangan on The Guardian's website said: "The One Show is not high art, nor is it something that panders to the lowest common denominator.
"It is comfort viewing, and Manford and Jones are - or certainly will be very soon - comfortable presenters. It ain't broke. It doesn't need fixing."
The Western Mail's Clare Hutchinson said Jones' smiles "appeared more and more to be disguising panic," but "given time, her winning Welsh warmth will no doubt shine through".
Jones' much-discussed likeness to Bleakley got viewers talking on social networking sites after the programme.
Lisa Collins, from Leicestershire, wrote on Twitter: "Alex Jones on One Show looks like she's been cloned from Christine Bleakley."
Joanne Williams, from Chester, wrote on the website: "Alex Jones looks SO much like Christine Bleakley but that Welsh accent is strong, really have to listen! Great start!"