Row over moves to devolve alcohol licensing powers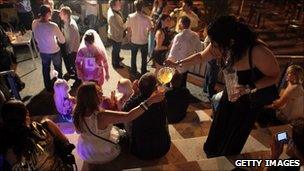 The Wales Office has accused the assembly government's health minister of breaking the devolution agreement by calling for powers over alcohol licensing.
Edwina Hart has asked fellow cabinet members to help her "take control and take action" over alcohol policies.
But David Jones said alcohol licensing will never be devolved.
He agreed that alcohol abuse was a "major blight" but said laws over it would never be devolved.
It emerged at the weekend that Mrs Hart is to ask cabinet colleagues to request licensing laws to be devolved to Wales by the UK government,
The move has been welcomed by the SNP, which wants similar powers in Scotland.
But Mr Jones told BBC Radio Wales that they were "rather surprised" about Mrs Hart's announcement, as alcohol licensing powers were "specifically excluded" from the devolution settlement.
The Wales Office minister also said it was clear her comments were a "little premature" as the assembly government minister emailed colleagues and then subsequently withdrew the email.
He said: "It's clear that she hasn't yet spoken to her Welsh ministerial colleagues about this.
"So we thought that before the issue runs any further we would actually make it clear that there are no plans to devolve alcohol licensing.
"In fact, the coalition government is working up its own plans which are quite well advanced to tackle the issue of alcohol abuse which is really one of the biggest issues facing the country at the moment."
Mr Jones said he would object in principle to powers on alcohol being devolved.
He said the matter should be "properly dealt with on an England and Wales basis".
"Differential regiimes could lead to so called alcohol tourism whereby people who live in Wrexham could go to Chester and do their alcohol shopping for a different price," he said.
Mr Jones added: "Alcohol pricing is specifically excluded from a devolution settlement, it will never be part of the devolution settlement and I'm rather surprised that Mrs Hart made the announcement in the way she did.
"What it shows is it is useful if assembly ministers consult not only with their own colleagues in the assembly government, but also with colleagues at Westminster before making announcements of this sort.
He said "I fully agree with Edwina Hart to the extent that alcohol is a major blight upon the social life of this country."
Mr Jones said among the proposals the UK coalition government was working up were to ban the sale of alcohol below cost pricing and to review alcohol taxation and pricing to tackle binge drinking
He said they would consult with the assembly government, but "it is a process that should be developed at an England and Wales level.
"That's something that is supported by among other people Alcohol Concern Cymru and that is the way we want to see it developed."
Related Internet Links
The BBC is not responsible for the content of external sites.