Points 'wear' cause of trams crash in Llandudno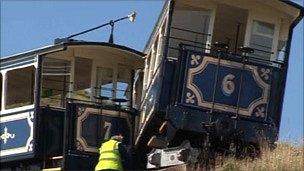 A crash between two tourist trams on Llandudno's Great Orme was caused by worn points moving on the track, a report has found.
The Rail Accident Investigation Branch (RAIB) found "wear and degradation" with the points, with their condition not routinely measured.
One of the 64 passengers on the cable-hauled trams suffered a minor injury in the crash in September 2009.
Operator Conwy Council said it was fully addressing the recommendations.
The safety report has urged better evaluation and comprehensive audits of the points.
The crash happened on the passing loop of the upper section of the tramway on 15 September 2009.
One passenger was treated at the scene.
Both trams were damaged with the attraction staying closed for the rest of the season.
The immediate cause of the derailment was the points moving under the ascending tram and directing the rear of this tram into the descending tram's path.
The ability of the points to remain in the correct position had reduced due to wear and degradation of the points system.
There was no routine measurements of the condition of the points system because there were no procedures for such measurements or any associated remedial actions.
There was a lack of both comprehensive risk assessment of the points and competent safety audits.
Between October 2009 and March 2010 Conwy Council undertook remedial work on the points on the upper loop, including correcting the track alignment and renewing deteriorated components.
The RAIB said it has made two recommendations as a consequence of the collision.
It said the council should conduct a competent technical evaluation of the points and crossings on the tramway to identify associated risks and control measures.
The council should ensure that comprehensive and competent audits are carried out to identify deficiencies associated with the operation and maintenance of the tramway.
Derwyn Owen, Conwy Council's head of engineering and design, said: "We've received the RAIB report and work is ongoing towards fully addressing the recommendations contained in it."
The tramway open back in 1903, operating on a funicular system, with the ascending tram being helped up the steep climb by the tram travelling downwards.
Seventeen people were treated in hospital when two trams collided on the Great Orme in 2000.
In 2005 a £4.5m upgrade was completed on the tramway.
Related Internet Links
The BBC is not responsible for the content of external sites.