Farmers in Wales start 'lantern patrols'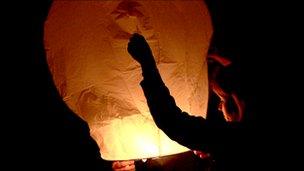 Sky lanterns are such an increasing menace that farmers have to mount "lantern patrols," says a farm union.
The Women's Food and Farming Union (WFU) said farmers in Denbighshire and Flintshire were resigned to having to check land for wire from the devices.
The union is gathering evidence in its campaign to have them banned as a fire risk as well as a danger to livestock.
Coastguards warn the lanterns are easily confused with distress flares and can lead to unncecessary call-outs.
The increase in the number of sky lanterns landing in the countryside over the past 12 months was a hot topic at this month's Denbigh and Flint Show.
The airborne illuminations - in effect hand-held hot air balloons - are launched at outdoor parties and weddings as well as seasonal celebrations such as Chinese new year.
The fuel cell on the lanterns is lit and the hot air sends them into the sky at dusk or at night.
The WFU is gathering evidence for the UK rural affairs ministry, Defra, to explain why it wants them banned, fearing up to 200,000 will be launched over the summer.
It says cattle have been killed by eating wire from degraded lanterns that was accidently picked up by harvest machinery and put into winter feed.
Members of the union's north east Wales WFU branch have coined the term "lantern patrol" because they are resigned to having to closely inspect fields for lanterns that might have landed overnight.
Branch secretary Karen Bellis, who farms 200 sheep and more than 100 cattle near Llandegla, Denbighshire, said: "Unfortunately, that's what farmers have to do now.
"If you are cutting a lawn, it's not so bad, but if you are looking at a 25-acre field, it's really difficult.
"We have lots of things to do as farmers and this is one extra thing - we have to put a lot of effort into checking that there are not any around. This is a serious problem.
"Of course, they look pretty - it's not about stopping people having fun, it's about making people aware of the risks."
Ms Bellis said the wire used in many types of lantern were often too thin to be heard when chopped up by a silage cutter.
"That size of wire is the most lethal when an animal eats it - it is the thickness of a matchstick, it is like a needle inside the animal."
The union's concerns are shared by the Farmers Union of Wales. An all-Wales survey by it reported incidents in Flintshire, Ceredigion, Carmarthenshire and Pembrokeshire.
Glamorganshire county executive officer Adrian Evans said the son of a member was checking livestock at about 2200 BST one evening when he discovered that a sky lantern had landed in a barn.
"It could very well have set the barn and its contents of hay and straw on fire as the lantern was still smouldering," Mr Evans added.
The Maritime and Coastguard Agency last year saw the number of calls about sky lanterns rise almost seven-fold from 49 to 347.
A spokesman said: "They hang in the sky and look identical to a red distress flare.
"If you are on shore and you see one of these, it's natural to err on the side of caution and report it."
A Welsh Assembly Government spokesperson said: "We have not received any specific reports or detailed evidence suggesting Chinese lanterns or any of their components have compromised the health and welfare of livestock.
"However, the risks have been recognised and the farming unions have provided advice to their members."
Related Internet Links
The BBC is not responsible for the content of external sites.