Schoolgirl wins bid to honour Barmouth's Titanic hero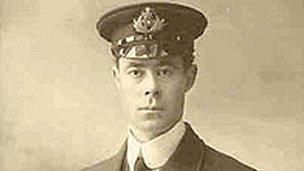 A 15-year-old schoolgirl has won her campaign to commemorate Titanic hero Harold Lowe after learning there was no memorial to him in his home town.
Maddie Matthews, of Dyffryn Ardudwy, Gwynedd, has been asked to help Barmouth Town Council mark the sailor's efforts to rescue survivors.
The council hopes to erect a memorial to Mr Lowe in time for the centenary of the shipping disaster in 2012.
Mr Lowe rowed a lifeboat and saved people from the freezing water.
He was played by Hollywood actor Ioan Gruffudd in the 1997 film Titanic.
Maddie had been juggling revision for her GCSEs with writing letters to local councils and historical organisations to drum up support for her campaign.
Barmouth mayor Phil Hill said: "I have spoken to descendants of Harold Lowe and they are delighted that we are considering commemorating his efforts when he organised saving passengers as the Titanic sank.
"What type of plaque or display will have to be discussed along with how it can be financed? I know for sure that there is public support in the town and from many other parts of Wales for some kind of commemoration to be noted here in Barmouth, his home town."
The town council has set up a sub-committee, and invited Maddie to help sort out the plans in time for the centenary of the sinking of the Titanic in April 2012.
In June, the teenager described Mr Lowe, who died in 1944, as a national and international hero.
She first learned about him when watching the blockbuster film about the doomed ship.
On that fateful night in April 1912, Fifth Officer Lowe dispersed the occupants of his lifeboat among the other boats, and rowed back towards the sinking ship, managing to rescue four people still alive in the water.
He also rescued passengers stranded on a sinking inflatable lifeboat, ensuring that everyone alive reached the safety of the Carparthia, a passing ship.
Related Internet Links
The BBC is not responsible for the content of external sites.