Digital divide between Wales and rest of UK narrows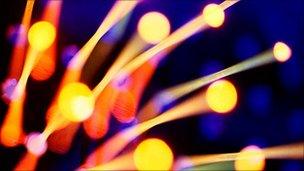 The digital divide between Wales and the rest of the UK is narrowing fast, says media regulator Ofcom.
New research shows the gap between broadband take up in Wales and the UK has decreased from 10 percentage points to seven in just 12 months.
The report also shows Wales has the highest proportion of households using mobile broadband in the UK.
But Ofcom's director in Wales, Rhodri Williams, said there were still challenges to overcome.
Ofcom's report details this year's trends across television, radio, online and telecommunications.
Among its findings, Ofcom reveals that in 12 months, the gap between broadband take up in Wales (64%) and the UK as a whole (71%) decreased by three percentage points.
It also shows that in Wales, the take-up of broadband in rural areas (69%) continues to be higher than urban areas (62%).
This is despite people in rural Wales being less likely to have access to super-fast broadband connections, a 3G phone signal and a choice of suppliers.
They are also more likely to own a mobile phone than those living in urban areas - despite having more places where there is no coverage.
Wales has the highest mobile broadband take up of any nation in the UK (16%), a 5% increase compared with 2009.
Ofcom says users in Wales are more tech-savvy and constantly looking for ways to save money on their communications packages.
Mr Williams said: "Communications services are rapidly becoming a necessity rather than a luxury for Welsh consumers and businesses in all parts of Wales.
"Even though our report indicates that there are still challenges to overcome, the direction of travel is positive."
Professor Tony Davies, Chairman of Ofcom's Advisory Committee for Wales (ACW) said the findings were "heartening".
He said: "The ACW welcomes Ofcom's findings that the communications gap is reducing between Wales and the UK as a whole.
"It is particularly heartening to see that the people of Wales are becoming more knowledgeable and astute in the way in which they buy and use communications services.
"However, significant challenges still remain, particularly on 3G mobile coverage, broadband speeds and the reach of local DAB [radio] and we will continue to press for significant progress on these issues."
Related Internet Links
The BBC is not responsible for the content of external sites.