Ceredigion school with no pupils shuts early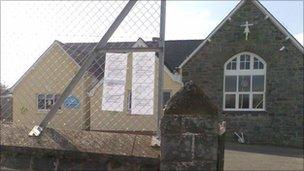 A primary school, which was due to stay open until January despite having no pupils, will now close next month.
Mydroilyn Primary School near Llanarth, Ceredigion, was one of three schools in Wales technically open with no pupils.
But Ceredigion Council has now announced the school will officially close on 1 September.
The council said the assembly government had agreed to a change to the original statutory proposal to shut the school on 1 January.
Ceredigion's director of education and community services, J Eifion Evans, said: "Ceredigion had actually followed all the correct procedures in proposing closure of Mydroilyn school with nobody having objected to that proposal.
"It is therefore very much appreciated that the Welsh Assembly Government has seen fit to quickly agree to bring forward the effective closure date."
Last week it was revealed that Capel Iwan primary, near Newcastle Emlyn, Carmarthenshire, was staying open even though its 12 pupils left in July.
Education minister Leighton Andrews said Carmarthenshire council's decision to keep the school open was "bonkers."
It then emerged this week that two other schools remained technically open without pupils, Mydroilyn and Ysgol Abergynolwyn near Tywyn in Gwynedd.
The schools were due to welcome pupils back in September but parents had decided to send their children elsewhere.
Ceredigion council said it had confirmed earlier this month that Mydroilyn school would have no pupils at the start of the new term.
"Those circumstances arose after Ceredigion County Council had decided, earlier this year, to propose closure of the primary school at Mydroilyn from 1 January 2011," the council said in a statement.
"In accordance with the set legal procedure, a closure notice was published in the local press on 9 March 2010, giving objectors a two-month period in which to object to the proposal.
"Nobody did object so there has been no need for Ceredigion County Council to refer any objections to the Welsh Assembly Government for its determination.
"In the interim, however, parents decided that they might as well introduce their children to alternative schools in September 2010, rather than wait until January 2011."
The council said staff had managed to secure work elsewhere.
Related Internet Links
The BBC is not responsible for the content of external sites.