£1m Swansea hospital emergency, head injury wards boost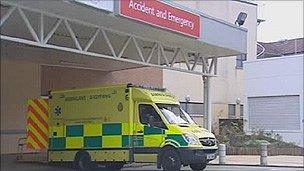 The first patients are being moved over this weekend as part of £1m changes at Morriston Hospital in Swansea.
Managers hope a new emergency assessment unit, along with a new ward for spinal and head injuries, will help cut waiting times.
Work on the new head injury ward is almost complete, at a cost of £350,000.
A new £700,000 multi-speciality assessment ward, called the clinical decision unit (CDU), will be fully opened over the next two months.
It is housed in an old neurosurgery ward, directly opposite A&E, while the new spinal and head injuries ward is being set up in the old medical assessment unit.
Dr Bruce Ferguson, ABM's medical director said: "These investments are a very important boost for patient care and a key to the plans to support Morriston Hospital as the centre for complex and emergency care in Swansea."
Patients arriving in accident and emergency unit will be assessed by medical staff at the CDE, to decide if they need to be admitted or can be treated in the community.
It is hoped this will improve the flow of patients and waiting times.
"This is essential in ensuring we make the best possible use of scarce hospital resources - in particular hospital beds," said Dr Ferguson.
He said senior decision makers would have an involvement early on in dealing with how patients would be treated from when they arrived at the front door.
The health board is also investing in additional acute medicine consultants and extra nurses, as well as two new spinal surgeons.
Dr Ferguson said the new spinal and head injuries ward showed that although neuro surgery was now centralisd in Cardiff, Morriston would continue to offer an excellent service to the "vast majority" of head injury patients.
Because of the patient transfers between wards, visiting was being restricted on the afternoon of 21 August.
Related Internet Links
The BBC is not responsible for the content of external sites.