Prisoners in Wales locked in cells for longer, AM finds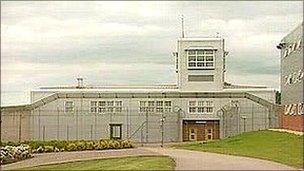 The amount of time prisoners in Welsh jails spend outside their cells has fallen for five years running, a Freedom of Information request shows.
On average, prisoners in 2009 had just over an an hour's less time out of their cells than in 2005.
Plaid Cymru AM Leanne Wood, who made the request, said rehabilitation in jail was a crucial part of sentencing.
The Ministry of Justice said it was undertaking a full assessment of sentencing and rehabilitation policy.
It said it was committed to stopping "the revolving door of crime".
The most marked decrease came at HMP Usk/Prescoed in Monmouthshire, where inmates were allowed out for 11.69 hours in 2008-9, compared to 13.86 hours a day the previous year.
The average figures from 2004-5 showed Welsh prisoners were allowed out for nearly 10.5 hours per day. This had dropped to 9.35 hours by 2008-9.
Previous research carried out by Ms Wood found spending on education in Welsh prisons fell by 7% over a 12-month period.
The South Wales Central AM said: "These figures are a concern because it seems that prisoners in Wales are, on average, spending more and more time locked in their cells.
"Being sent to prison should not just be about punishment.
"Rehabilitation must be crucial component of a custodial sentence if anything is to be done to break the cycle of offending among some of the more persistent criminals.
"Public spending cuts that are planned will undoubtedly mean that fewer rehabilitation programmes will be run, resulting in more people remaining at risk of further offending when released."
In 2008, Ms Wood wrote a policy paper calling for every prisoner to have an individual offending behaviour reduction plan, and for powers to deal with police, prisons, probation, courts and sentencing to be devolved to the Welsh assembly.
Geoff Dobson, deputy director of the Prison Reform Trust, believes it is "hardly surprising" inmates are spending more time locked up given the size of the prison population and funding cuts.
"Our overcrowded prisons increasingly resemble human warehouses rather than places of effective rehabilitation," he said.
"Without opportunities to better themselves through work, education and training, many people are leaving prison ill-equipped to cope on the outside and at risk of returning to crime."
He said if the promise of a "rehabilitation revolution" was be realised, politicians had to look at ways to address our current "overuse of custody".
A spokesperson for the Ministry of Justice said: "Ministers are committed to protecting the public, and to stopping the revolving door of crime through more intelligent punishment and rehabilitation of offenders.
"To do this, they want to put innovative thinking and practices at the heart of a radical plan to reform the criminal justice system.
"We are conducting a full assessment of sentencing and rehabilitation policy to ensure that it is effective in deterring crime, protecting the public, punishing offenders and cutting re-offending. We will consult on any proposals for reform in the autumn."
Related Internet Links
The BBC is not responsible for the content of external sites.