Record-breaking movie fan Gwilym Hughes dies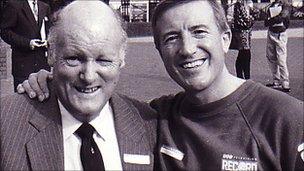 A movie enthusiast who held a Guinness World Record for the number of films he had watched has died at the age of 65.
Gwilym Hughes, of Dolgellau in Gwynedd, used to watch up to 14 films a week and kept a record of each one he had seen.
He held the Guinness World Record from 2008 having sat through more than 28,000 movies.
He saw his first film, King Solomon's Mines, in 1953 but his favourite film remained Lawrence of Arabia, directed by David Lean.
Mr Hughes died on Monday at Wrexham Maelor Hospital. He leaves a widow, Eirlys.
A spokesperson for Guinness said: "We would like to offer our condolences to his family and friends."
Mr Hughes, a retired painter and decorator, became interested in films as a child after an illness left him in hospital for two-and-a-half years.
For a time, he was strapped to an iron frame.
In an interview in 2008, he said he clearly remembered watching King Solomon's Mines.
He said: "You can imagine what it was like. I could only waddle my feet and move my hands and head.
"I was in an iron frame, and you saw these moving things in front of you. You just couldn't wait for the next time.
"They were so wonderful. It just clicked my imagination."
He started touring the cinemas in Dolgellau, Barmouth and Porthmadog and kept detailed records of what he had seen.
He included a cast list and often a photograph or newspaper cutting about the film.
The development of video and DVD meant he could watch films at home but said it did not rule his life.
He said: "People think that I'm glued to the television set 24 hours a day but I'm not because I'm a member of about 10 organisations.
"I watch films from about 9pm until about 12. Sometimes I could set up one on the televisions in the study. It works out about 10 to 14 films a week."
His favourite films were Lawrence of Arabia, Hedd Wyn, Zulu, The Dambusters and The Sundowners.
Related Internet Links
The BBC is not responsible for the content of external sites.