Television producers warn on 'threat' to S4C's future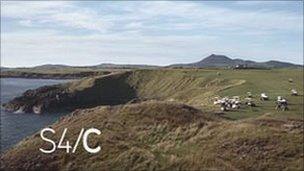 Independent television producers are warning there is a "real threat" to the future of Welsh language TV channel S4C "in its present form".
They met representatives of S4C, which is reportedly facing cuts of 25% in its budget over four years.
Afterwards, their chair Iestyn Garlick said if the cuts happen a "second-class, part-time service" from S4C would be a "distinct possibility".
S4C said Sunday's meeting was an "important step forward".
As well as the the reported cuts in its £100m funding, Iona Jones, who had been S4C's chief executive for five years, left unexpectedly after last month.
The S4C Authority has asked former Welsh Assembly Government permanent secretary Sir Jon Shortridge to carry out a review of the way the TV channel is run over six weeks.
Members of TAC, the trade organisation for TV producers in Wales, met S4C officials in Llandrindod Wells, Powys, on Sunday.
Mr Garlick said the producers welcomed the opportunity to "discuss openly, and without prejudice."
He said it was clear that there was a will to work together, to ensure the future of the channel and "thereby ensuring the future of our language and culture".
He added: "S4C has a place in the heart of our nation, a role to play in Wales' public life.
"It's vital that S4C and the sector (TV companies) work together to convince the audience that there is a real threat to the future of the channel, in its present form.
"Wales doesn't deserve a second-class, part-time service, but if these suggested cuts [to S4C funding] happen, then that will become a distinct possibility."
S4C described the weekend talks were "open and outspoken".
As well as discussing issues that are a worry to the production sector about S4C, they discussed ways of collaborating to face new challenges.
Arwel Ellis Owen, S4C's interim chief executive, said: "The meeting was a good example of the partners of one of the most important creative industries in Wales working together and promising to face the future challenges together".
Related Internet Links
The BBC is not responsible for the content of external sites.