Student rises boost house prices in parts of Wales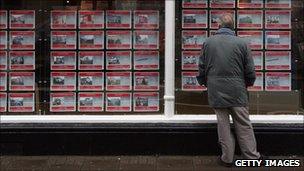 House prices in some of Wales' university towns have shot up as demand for student accommodation increases, figures suggest.
In Carmarthen, the price of property has increased by almost a third over the last five years after the number of students rose by 69%, according to the Halifax bank.
House prices in Ceredigion and Gwynedd have also risen.
Estate agents said students' parents often bought property as an investment.
In Ceredigion - home to Aberystwyth and Lampeter universities - the number of students has risen by 91% in the last five years up to June.
It has helped boost house prices in the area by 12%, taking the average property price from £166,496 to £186,781, Halifax's figures show.
In Gwynedd, where the number of students at Bangor University has risen by a quarter since June 2005, house prices have gone up by 4%, from an average of £148,020 to £153,218.
But the largest house price rise has been in Carmarthen - home to Trinity University College - where the average house price has increased from £153,224 five years ago to £196,917.
Matthew Thomas, a partner at Carmarthen estate agents Terry Thomas and Co, said more and more people were investing in properties in the town, where the average three-bedroom student house brought in around £600 a month in rent.
"We have seen an increase in demand which I suppose is down to the university becoming more and more popular," he said.
"You might have parents fortunate enough to have looked at the investment they had in the bank and thought why not invest instead in property?
"They can then have a place for their son or daughter and rent out the other rooms to other students.
"We have noticed a rise in this over the last two years, along with general investors buying properties to let out to students. I also think the regeneration of Carmarthen town centre has added to the house price rise."
But in some areas, including Cardiff and Swansea, house prices have stalled, while places like Pontypridd - home to the University of Glamorgan - have seen property prices fall, despite the student population growing.
Danielle Davies, of CPS Homes estate agents in Cardiff, said the growing number of halls of residence could be the reason for the lack of price rises.
"In Cardiff we have seen lots more halls of residence being built so many students live in those instead of residential houses," she said.
"We've also noticed a lot more competition with so many more agencies around, which I think is keeping house prices competitive."