Insurer Admiral Group's record £127m half-year profit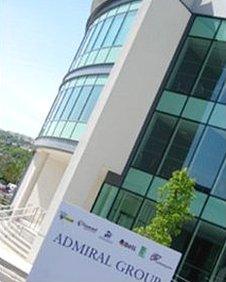 Car insurance group Admiral has announced record half-year pre-tax profits of almost £127m.
The figure for the six months till June was up 21% on 2009.
The group, which owns insurance brands including Confused.com, Diamond and elephant.co.uk also saw its turnover rise 33% to £720.5m.
Admiral Group now employs almost 4,000 in south Wales and is the only Welsh firm in the FTSE 100, the list of the UK's top companies.
David Stevens, Admiral's chief operating officer, said the performance exceeded expectations.
"We have grown every year since we started in the early 1990s but we have never grown as fast as in the last six months.
"We have got 400,000 more motorists insured with Admiral and our sister brands that we had a year ago which is a phenomenal rate of growth," Mr Stevens added.
The company which employs about 4,000 in its Cardiff, Swansea and Newport offices, has recruited an extra 750 staff handle the extra growth.
Admiral has a presence in countries such as France, Italy and Germany, as well as a new operation in the US and a longer standing operation in Canada, where turnover is up 51%.
Mr Stevens said the firm now insured 150,000 cars abroad.
As a result of the strong figures will pay out about £6m to Admiral staff in share bonuses.
Mr Stevens also defended the rise of about 22% in premiums, saying 2009 was a terrible year for the insurance industry as a whole. party because of the bad weather and the big increase in claim costs.
He said the claims were "partly from fraud and partly from more and more people feeling that they will make that claim for the whiplash that they might not have made a few years back".
This has led to the industry as a whole losing about 20p for every pound of premiums and a number of insurers having to make "much bigger than our own increases".
He explained that without their prices rises Admiral would have found themselves flooded by customers they could not handle.
He said: "We've got to be able to answer the calls, we've got to be able to handle the claims. We've done our best and its been a phenomenal effort by all our staff.
"Its an unusual situation to be in and it's a reflection of the fact that we've built a very strong business at Admiral that works very well in the car insurance market
Admiral's price comparison website Confused.com had had a tough start to 2010, and it had falls in revenue and profit.
Mr Stevens said the site had been affected by the success of TV marketing.
"We have to take our hats off to the Meerkat particularly but also the fat opera singer - they're advertising campaigns have proved more compelling than our own," he admitted.
As well as announcing plans for a new HQ in Cardiff in 2010, Admiral has become the main sponsor for the Welsh rugby team's shirts.
Related Internet Links
The BBC is not responsible for the content of external sites.