Drugs deaths up by 67% in Wales in three years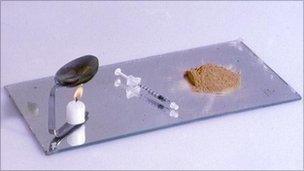 Drugs-related deaths in Wales have risen by 67% in three years, new figures have revealed.
Statistics from the International Centre for Drugs Policy 102 illicit drugs-related deaths recorded in Wales in 2009, up from 61 in 2006.
Researchers say the UK has a "major problem" with such deaths, with rises also in England and Northern Ireland.
The Welsh Assembly Government said it was too early to say whether the rise reflected an emerging trend.
Heroin and morphine were involved in more than half of the deaths across the UK, while there was a reduction in deaths from cocaine, amphetamines and ecstasy-type drugs.
The figures were based on information provided by coroners to the International Centre for Drugs Policy.
Drugs-related deaths in Scotland remained broadly the same, while deaths in Wales, England and Northern Ireland all rose.
Professor Hamid Ghodse, director of the International Centre for Drug Policy (ICDP) at St George's Hospital, London, said the continuing rise was "very concerning".
"The effectiveness of both drug abuse prevention and treatment is reflected in the mortality data, so we know we still have a major problem," he said.
"An immediate impact in reducing drug-related deaths could be achieved by improving the availability of effective treatment and rehabilitation services."
Darren Millar, chair of the Welsh assembly health, wellbeing and local government committee, said: "It's too many: these figures are very alarming and shows an increasing trend that needs to be addressed.
"For some time experts have been warning we need more residential detoxification beds.
"People are waiting for up to 12 months to get access to these beds and they can very often continue to self harm and, in some cases, unfortunately overdose.
"We have got to be able to offer a bed very quickly as any delay can allow them to lapse in their frame of mind.
Mr Millar said that at the moment, drugs users from Wales were sent to rehabilitation centres in England, which is a "very expensive" option.
"There are some excellent service providers in Wales which could be expanded if the cash was there," he said.
"If you invest up front it saves lives."
Ifor Glyn, director of the Swansea Drugs Project, said: "Just one death is too much.
"Heroin is definitely the main drug that is presented to agencies across Wales.
"What we should be seeing is a wide variety of treatment options. Sending people from their communities is not always the answer."
An assembly government spokesman said: "Each of these deaths is a personal tragedy for the individuals and their family and friends.
"It is too early to say whether the 2009 figures represent an emerging trend of a higher rate of increase in drug-related deaths in Wales.
"We are investing in prevention and education to stop people becoming hooked on alcohol or drugs in the first place, and are also investing in treatment and rehabilitation for those who are dependent upon drugs.
"An extra £5.9m has been added to the Substance Misuse Action Fund this year, bringing the total budget supporting the substance misuse strategy to £52.6m this year."
Related Internet Links
The BBC is not responsible for the content of external sites.