Last wolf whistle for Wilfred, Cardiff's aged duck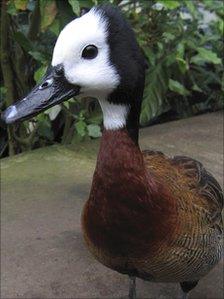 A "wolf whistling" duck claimed to be one of the longest-lived of its kind has died at the ripe old age of 19.
White faced whistling ducks usually live to about seven, but it is believed Wilfred lasted so long as he was pampered, with plenty of correct food.
He lived in the conservatory in Roath Park, Cardiff, where he attracted visitors who wanted to hear his distinctive "wolf whistle" call.
Councillor Nigel Howells called him a wonderful creature and valued resident.
His type is usually found in tropical or subtropical regions of the world, usually near water, including in parts of Africa and South America.
Along with his late partner Winifred, he was initially bought by a private breeder.
Wilfred died through natural causes, and Cardiff council said it believed Wilfred had been one of the oldest of his breed in the world.
"Wilfred attracted plenty of visitors to the park, who were thrilled and intrigued by his distinctive call and appearance," it said in a statement.
"The sound he made has been described as a wolf whistle and he would do it when asserting himself or when he wanted something.
"He was always friendly and was an asset to the rangers as he would whistle whenever anybody entered the conservatory, alerting them when a visitor needed to pay.
"He was a well known local character with a big personality. It was once said by a park ranger that he would often stroll around as if he owned the place and was certainly not shy, liking to peck at people's shoe laces."
Wilfred and Winifred raised a couple of broods of young ducks over the years which went to other collections.
They have a distinctive white and black face and loud, melodic whistle.
Mr Howells, the council's executive member for sport, leisure, and culture, said: "Wilfred the duck was a wonderful creature and a valued resident of Cardiff. His status as one of the oldest of his kind put Roath Park on the map.
"This is sad news and he will be greatly missed by the thousands of visitors who pass through the conservatory each year."
Related Internet Links
The BBC is not responsible for the content of external sites.