Most grass fires in Wales 'started deliberately'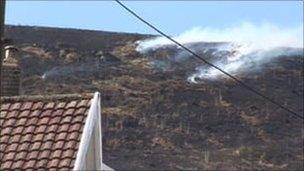 Three-quarters of the most serious grass fires in Wales are started deliberately, official figures suggest.
Matches are often used to start the fires, putting people's lives at risk and potentially devastating wildlife and their habitats.
Five people were injured in grassland fires in 2008, the most recent year that detailed figures were available.
Fire services have focused more resources in recent years educating young people about the dangers.
The number of serious, or primary, grassland fires started deliberately has fallen since peaking in 2003.
Primary fires are classed as those which involve casualties, rescues or fires attended by five or more appliances.
Nearly four out of 10 of the most serious blazes were started by people with matches.
Figures are not yet available for 2010 but fire crews were busy across Wales earlier this year dealing with incidents, many believed to have been started deliberately.
Hundreds of grass fires were reported on some nights in March with incidents in Rhondda Cynon Taf, Bangor, Gwynedd and on Gower, Swansea.
Fires ranged in size from small areas of grass to a number of much larger blazes involving more than 150 hectares, equivalent to around 150 rugby pitches.
The three Welsh fire services said some had been started deliberately, either maliciously or by controlled burning by landowners quickly spreading.
Geraint Hughes, operations manager of North Wales Fire and Rescue Service, said he was not surprised by the assembly government figures but added fire officers were working hard to educate people.
"The deliberate fires tend to be younger people and that's part of the education we do within the community," he said.
"We go out and try to educate the young people about the risk of starting deliberate fire starting and the effect that has.
"It's destroying their community. The areas they're playing in soon become unusable."
He said there was also the problem of fire crews being prevented from attending other types of incidents.
"Our appliances are dealing with a grass fire when round the corner there might be a road accident or house fire," he said.
There is a large financial cost associated with grass fires too, because some incidents tie up firefighters for many hours.
"It's difficult to put a definite figure on what it costs us," said Mr Hughes.
"In some areas we have to bring in appliances to fill in the gaps. Where there's retained firefighters we have to pull them away from their jobs potentially, and we pay them for the work they're doing.
"It does put a burden on things like budgets."
Wildlife also suffers, potentially killing animals and destroying their habitats, which can have devastating effects during the time of year, March and April, when such fires are most common.
Arfon Williams, RSPB Cymru countryside manager, said: "That time of year you have got ground-nesting birds starting to breed.
"Adults can escape but eggs and young birds are destroyed, and you lose the habitat for a considerable period of time."
There are signs that the public are taking note of the warnings, with the number of grassland fires generally falling since 2003, and fewer deliberate serious fires.
"We do see people take note of our advice. The message is getting through but it's an ongoing process of educating people," added Mr Hughes.
Related Internet Links
The BBC is not responsible for the content of external sites.