Twenty four jobless people trained at Rhyl FC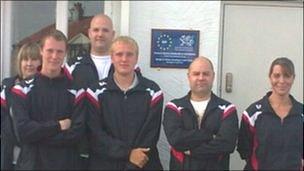 Unemployed people are to be given paid training in coaching and other skills at Rhyl Football Club.
On their four months paid work experience, 24 trainees will organise fundraising events and develop websites.
It will also turn them into volunteer football coaches and aims to support more than half into full-time work.
The scheme at the Huws Gray Alliance club is being run by Football in the Community.
Wales Council for Voluntary Action (WCVA) is providing £120,000 funding.
Lone parents, ex-offenders and people over 50 are among those taking part.
They will receive training from the Football Association of Wales (FAW) to gain Level 1 coaching qualifications.
Part if that training will involve giving coaching sessions and organising competitions for junior teams from Rhyl West and Bruton Park, two of the most disadvantaged communities in Wales.
The programme is aiming to give all those involved new qualifications and support more than half into permanent jobs.
Welsh Secretary Cheryl Gillan, who is visiting the scheme at the club on Friday, welcomed the scheme to help economically inactive people in the area back into training and employment.
Ms Gillan said the coalition government was committed to supporting all those looking for work and also working with organisations to make sure their talents and enthusiasm are not wasted.
She said: "Throughout this programme, 24 individuals will gain invaluable work experience which will give them the skills and confidence they need to do jobs.
"It is also particularly pleasing to hear that Rhyl Football in the Community is hoping to support over half of the individuals into permanent jobs at the end of their work placements."
The funding has been awarded through a WCVA project which is targeting economically inactive people with support and employment opportunities.
The intermediate labour market project will be supporting about 3,000 people in north and east Wales over the next two years.
WCVA chief executive Graham Benfield said: "As well as providing work opportunities to people who would otherwise find it very difficult in the current climate, this project will also leave a lasting community legacy.
Related Internet Links
The BBC is not responsible for the content of external sites.