Body found off Gwynedd in search for Shrewsbury kayaker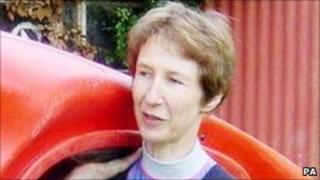 Coastguards involved in a two-day search for a missing kayaker have recovered a body off the Gwynedd coast.
Experienced kayaker Elizabeth Ashbee, 53, of Shropshire, went missing off Rhosneigr on Anglesey on Sunday.
Coastguards, who have not identified the body, earlier found Ms Ashbee's kayak 20 miles south off Porthdinllaen.
The extended air and sea search involved a lifeboat, two search and rescue and police helicopter and coastguard teams.
Ms Ashbee was with Shrewsbury Canoe Club members when she disappeared.
The club posted a tribute to her on its website: "Elizabeth was a real character within the club and will be missed by many.
"We would like to express our sincerest thanks to the rescue services for all their time and efforts.
"Our thoughts and sympathy are with the family and those involved in this tragic occurrence."
She was last seen at about 1430 BST on Sunday in bad weather heading through rocks at Ynys Feurig, or Starvation Island.
Earlier, coastguards said she was very experienced, well equipped and the sea was warm but they were worried at the length of time she was missing.
Raise the alarm
Patrols of beaches were going on earlier on Tuesday for the kayaker, who was separated from four other members of Shrewsbury Canoe Club in difficult weather.
The search for Ms Ashbee was first launched at about 1830 BST on Sunday after members of the group she had been in the water with managed to raise the alarm.
She was last seen as she kayaked ahead of the rest of the group who were rafted together in difficult conditions.
A full-scale search covering 60 square miles involved lifeboat crews and rescue helicopters on Sunday evening and most of Monday, hoping for a sighting of Ms Ashbee's red Valley Avocet plastic sea kayak.
Coastguard teams from Rhoscolyn, Rhosneigr and Llandwrog on Anglesey began patrolling the beaches on foot or in vehicles on Tuesday morning.