New-style device killed L/Cpl David Dennis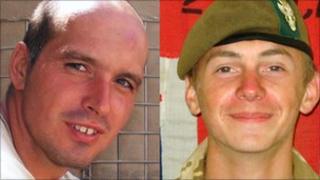 A 29-year-old soldier on foot patrol in Afghanistan was killed by a sophisticated explosive device which was hard to detect, an inquest heard.
L/Cpl David Dennis, of Llanelli, Carmarthenshire, died in a "huge explosion" on 4 July last year.
The inquest heard that Pte Robert Laws, 18, from Worcestershire, was killed in an explosion on the same day, caused by a rocket-propelled grenade.
The coroner recorded verdicts of unlawful killing on both soldiers.
L/Cpl Dennis, of The Light Dragoons, and Pte Laws, from 2nd Battalion The Mercian Regiment, were taking part in Operation Panchai Palang, or Panther's Claw.
Operation Panchai Palang was a campaign against insurgents in the north of Lashkar Gah.
Pte Laws, from Bromsgrove, died after the grenade penetrated the Spartan vehicle he was travelling in.
Shortly after he was airlifted by helicopter, L/Cpl Dennis was killed by an improvised explosive device (IED) while on foot patrol in an area close to the evacuation point.
Wiltshire and Swindon coroner David Ridley told the families of both soldiers present that insurgents had begun to separate the battery pack from the explosive device by using a wire.
The device, which insurgents had started using that summer, had a low metal content which made it very hard to detect with the Army's metal detectors, the inquest heard.
The area where L/Cpl Dennis was killed had been swept several times that day for IEDs but the newer, more sophisticated device, containing 20kg to 25kg of explosives, was not detected.
Capt Owen Candy, who was a couple of metres away when the device went off, said: "A huge explosion erupted and the air was brown with dust
"From there, as you can imagine, it was chaos.
"Your stomach aches because you know, as with a lot of these things, that somebody is not going to survive."
Just half an hour earlier in the same area, Pte Laws was inside a vehicle when it was struck by a rocket-propelled grenade (RPG).
Troop Commander Capt Guy Disney, who was inside the same vehicle, was also injured and lost his right leg below the knee.
'Filled with smoke'
"It was a good shot as the enemy hit the vehicle, killed Rob and injured me," he told the hearing.
"My Troop for the remainder of the tour came under quite a lot of RPG fire - sometimes failing equipment, sometimes inaccurate targeting - and this was a good shot."
Pte Daniel Eaglesfield, who was in the back of the armoured vehicle with Pte Laws, said he saw a lot of smoke after the explosion.
"My hearing and eyesight had gone because the compartment was completely filled with smoke," he said.
"I looked around and realised that Rob looked peaceful and asleep."
The coroner recorded verdicts of unlawful killing while on active service in Afghanistan for both Pte Laws and L/Cpl Dennis.
The coroner added: "I would like to sincerely thank the witnesses who came today. I appreciate it's not easy recounting such unpleasantness where colleagues and comrades have been injured and some have lost their lives."