More empty shops in Wales but rate slows, says report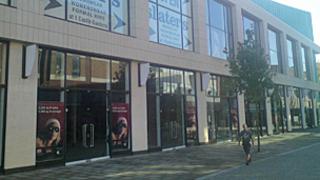 There are more empty shops in most towns and cities in Wales than there were six months ago but the rate is slowing, according to a new report.
Newport has the most vacancies but the number of premises available in Swansea and Cardiff fell.
Wales has fared well compared to many other parts of the UK, says the study.
But there are warnings that an increase in VAT and competition from out-of-town developments will see empty shops continue to rise.
The figures are contained in a half-yearly report by the Local Data Company.
It said over the last six months regional differences in shop vacancies had become more apparent then ever.
Town centre vacancies across the UK have risen from just over 12% at the end of 2009 to 13% at the end of June 2010.
Both Swansea and Cardiff saw a fall in the number of empty shops during the first half of 2010.
David Hughes-Lewis, chairman of the Cardiff Retail Partnership, said the £675m St David's complex that opened last year had been a mixed blessing for the city.
"In the last 12 months we've had [up to] 90 new retailers come to this city and this has impacted particularly on the arcades.
"If you look around the old arcades of Cardiff now that is where the concentration of empty units is built.
"I think landlords are finding it harder and harder to fill these shops.
"There is an upside - there are fresh people coming to Cardiff - people coming down the M4 corridor particularly from places like Swindon, Bristol and Bath because of the quality shops."
VAT increase
But he warned: "I think its going to get worse before it gets better.
"We've got the VAT increase coming in January to 20 percent - a year ago it was 15 percent - that's going to hit retailers."
David Hill, town centre manager of Mold in Flintshire, said it was "doing quite well" in bucking the trend with a vacancy rate of about six percent.
He said there was action small retail centres could take to attract business.
"It's absolutely critical that towns develop their own niche," he explained.
"Mold is very strong on its independent sector so that's one of the ways that we've weathered the storm."
He also said they had introduced a loyalty scheme and a street market to entice people in.
Mr Hill said they were also looking at a "charity shop trail."
"Most do a very good and professional job. There's a lot we can do to enhance the experience," he added.