Charities' concern over jobless households in Wales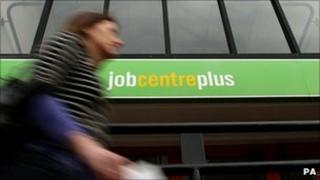 Charities working with children and young people in Wales have raised concerns about the number of households where nobody works.
Official statistics suggest that more than one in five homes in Wales now has no breadwinner.
There is particular concern for children living in workless households, with charities warning of a "spiral of unemployment" leading to crime.
The assembly government said it was using its powers to stimulate new jobs.
There are 226,000 households, or 22.9%, in Wales where no-one works, the highest percentage out of the nations of the United Kingdom.
It is the joint second highest level, with inner London, out of all the areas featured in the Office for National Statistics figures, behind only the north east of England (24.3%).
The Prince's Trust Cymru said young people living in homes where nobody worked were more likely to end up without a job.
Rick Libbey, director of The Prince's Trust Cymru, said: "These young people are facing a cycle of worklessness and can't see a way out. It is a tragedy to think that so many feel condemned to a life on benefits.
"These vulnerable young people are significantly more likely to struggle to find work themselves, with many expecting to join their parents in the dole queue.
"We know that the downward spiral of unemployment can lead to crime, homelessness or worse.
"Only by giving these young people the right support and role models will we break this cycle."
Barnardo's Cymru director, Yvonne Rodgers, said the statistics made "very worrying reading", adding that the "impact on children and young people can be damaging and make them more vulnerable at a time when they need most support".
"Drifting towards long-term unemployment and workless homes will only threaten the fragile economic recovery and will certainly jeopardise the future of the children and young people left adrift," she said.
"During the recession the strain on poor families we work with in our services across Wales has been greater than ever.
"The pressure on them to feed and clothe their children properly has meant that many are being forced into increased debt.
'Uphill struggle'
"There are four million children living in poverty today - almost half of whom live in workless homes. We must all act now to fight child poverty."
The south east of England has the lowest number of homes where nobody works at 14.2%.
A Welsh Assembly Government spokesman said the new figures showed how Wales had faced "an uphill struggle to overcome the legacy of the loss of heavy industry and the recessions of the 80s and early 90s".
"The Welsh Assembly Government recognises that jobs are the lifeblood of Wales and without them communities are severely disadvantaged. That is why we have been using all the powers at our disposal to stimulate job creation and give people and their communities a brighter future," said the spokesman.
"We want to create the right economic climate and create sustainable jobs."
The spokesman said the assembly government had taken decisive action to protect jobs during the recent downturn.
"Our ProAct scheme alone helped more than 10,000 people to stay in work," he added.
The assembly government also pointed to investment in disadvantaged communities to encourage regeneration, such as a £2.4m project to get 840 jobless people in Neath Port Talbot back into work.
"We are also taking action to help people tackle some of the barriers to entering the workplace, such as childcare, developing skills and careers advice," said the spokesman.
'Shocking'
"However, it must be remembered that many of the levers to address worklessness - such as the benefits system and taxation - are not devolved and rest with the UK Government."
UK Minister for Employment Chris Grayling said: "These figures are a further indictment of how the current system is failing families and is a shocking reflection of the scale of worklessness across the UK that this government has inherited.
"Some areas of Britain are suffering from intergenerational worklessness, which is why we must act now to ensure that children living in workless households are not left behind like their parents have been."