Colin Jackson backs Gavin Henson for Strictly success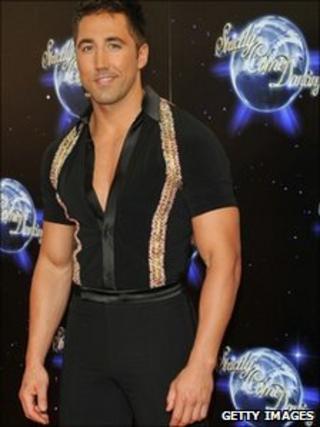 Champion hurdler Colin Jackson has backed fellow Welsh sportsman Gavin Henson for success on Strictly Come Dancing.
Rugby star Henson admitted nerves and being "self concious" before Saturday's launch show. The series starts in October.
Colin Jackson reached the final of the show in 2005 and said if Henson embraces the dances then he can go far.
He said: "The most important thing is to enjoy the dance itself."
Henson himself admitted he was nervous before Saturday night's launch show, which sees him line up against the likes of actresses Felicity Kendal and Patsy Kensit, as well as former England goalkeeper Peter Shilton.
He said: "Obviously a lot of personal things are going on in my life at the moment so that's tough and also career-wise with the Ospreys.
"It's all in the hands of solicitors on both counts so that's pretty stressful. I'm not sleeping so well so I just needed to take my mind off all that and I thought Strictly would be great and I can learn a new skill."
But the Wales centre, ex-partner of Charlotte Church, admitted to a few nerves.
He said: "I'm so nervous, I'm so self-conscious. Its going out in front of millions, it's quite embarrassing if you can't dance.
"I've never danced - not unless I'm absolutely hammered."
But Jackson urged him to enjoy it, saying: "If you enjoy the dance, then you are more confident when you dance and the audience will see that you are having fun.
"When Chris Hollins won last year people saw he had a great time so the audience didn't mind that he got a step or two wrong, they still voted for him.
"So the best thing Gavin can do is to not be too self conscious and not think of the stick he might get on the rugby pitch."
The British and Irish Lions star said he would rather be back on the field than strutting his stuff on the dancefloor.
"I've had a tough couple of months in my personal life and career-wise with my rugby team," Henson told the BBC.
"It is all up in the air and in solicitors' hands, so it is a pity.
"I didn't want to do this, I wanted to be back playing rugby but I have to do this."
Ospreys managing director Mike Cuddy said the "door remains open" for Henson's return.
"Indeed, we have built our squad in the belief that he would be returning, and both Gavin and his agent confirmed this as recently as the end of July 2010, information I then passed on to our coaching staff."
Sporting success
Despite Henson's preference to be on the rugby field, Olympic hurdler turned sports pundit Colin Jackson said the star's sporting stamina will see him triumph over rival contestants including former MP Ann Widdecombe.
Colin Jackson, who came runner-up to cricketer Darren Gough in 2005 said: "The big advantage that Gavin has as a sportsman is his ability to train.
"Ann Widdecombe said she trained for five hours in one day but the questions is can she do that everyday. It is hard to do that sort of training every day but as a sportsman Gavin's used to that level of training.
"I think he'll do well. I plan to be in the audience cheering him on.
"I really think that he will commit himself to it especially when he realises how fun it can be."
But bookmakers William Hill lengthened their odds on Henson winning after Saturday night's first look at the contestants.
"We have not learnt much, except Henson is simply horrendous," said Hill's spokesman Rupert Adams.